Steak Sandwich Salad Recipe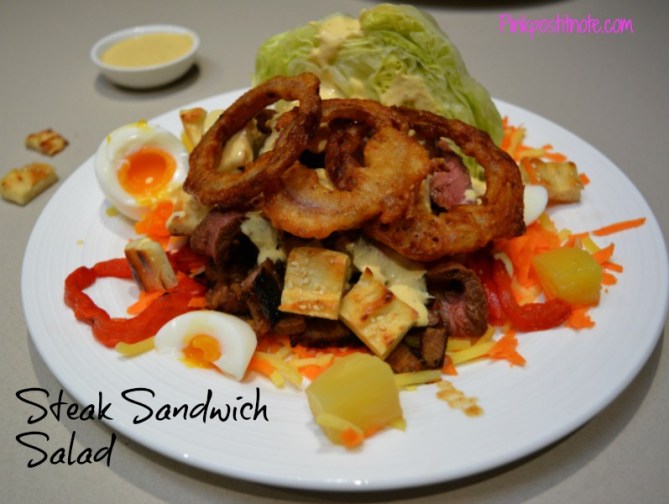 Steak Sandwich Salad Recipe
This Steak Sandwich Salad is one of my favorite meals. It has all the gorgeous, delicious ingredients you would find in a steak sandwich (steak – doh, cheese, beetroot, egg, pineapple etc) but glammed up in a way you wouldn't expect. There's no tough, chewy bit of gristly beef – your favorite cut of of steak is marinated in kejap manis to pack it with flavor, cooked whole and then sliced to tender perfection. Instead of a carb-laden hunk of bread you are treated to little toasted cubes of bread. Instead of boring raw onion, you get crispy fried onion rings flavored with garlic and to make it healthy there's carrot, tomato and lettuce! Then to make it even MORE delectable you can choose from green chilli aioli, caesar, ranch, peri peri mayo or garlic aioli! And it's a salad! Winning!
Steak Sandwich Salad Recipe
Ingredients
500g scotch fillet, porterhouse or rump steak
1/4 cup kejap manis
1 baby Cos lettuce, washed and torn into pieces
1 carrot, grated
1 tomato, sliced
2 hard-boiled eggs
40g hard cheese, cut into tiny pieces
beetroot
pineapple pieces, drained
1/4 small baguette, cut into small cubes
Onion Rings
1/2 red onion, sliced thickly into rings
1/2 cup buttermilk
1 cup self-raising flour
1 tsp paprika
1 tsp garlic powder
salt and pepper
vegetable or grapeseed oil
Instructions
Drizzle the kejap manis all over the steak and set aside in the refrigerator until you are ready to cook.
Then, place the sliced onion in a small bowl, pour over the buttermilk and set aside.
Make your crunchy croutons by heating up a small frypan and tossing the cubes of bread in a drizzle of oil (I used garlic infused olive oil). Set aside.
In a large bowl, combine the lettuce, grated carrot, hard-boiled eggs, capsicum, tomato and cheese. Set aside.
Heat a small frypan with a drizzle of oil and cook steak with for 3 minutes each side (this will give you medium-rare). Rest for 10 minutes, then slice into thin strips.
Pre-heat oven to 90C. Line a plate with a few layers of paper towel.
Mix the flour, garlic powder and paprika together. Season with salt and pepper. Drain the buttermilk off the onion and dip each ring into the flour mixture.
Wipe out the small frypan and pour in enough oil so that it lines the bottom of the pan completely. Heat the oil over medium heat. Toss a small cube of bread in and when it goes golden within a few seconds, the oil is hot enough to fry the onion. Fry 5 or 6 onion rings at a time, they will only need about 15-20 seconds on each side so watch them carefully. Remove with tongs onto the plate with paper towel and keep in the oven until ready to serve.
Plate up the salad, adding strips of steak, then add pineapple and beetroot. Drizzle with dressing of your choice and top with a few onion rings. Serve.
https://mumslounge.com.au/lifestyle/food/steak-sandwich-salad/