Thermomix Recipe: Italian Chicken and Couscous Salad with Chickpea Soup PLUS Giveaway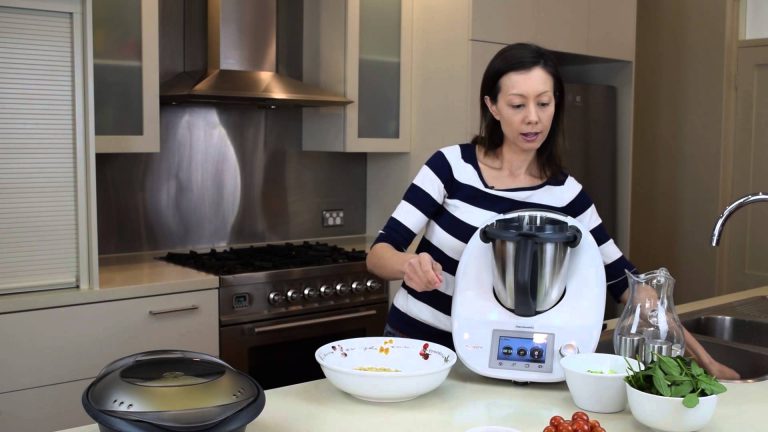 INGREDIENTS FOR 4 PORTIONS
Chunky basil pesto dip dressing
· 50 g Parmesan cheese, crust removed and cut into cubes (3 cm)
· 1 garlic clove
· 40 g fresh basil leaves
· 20 g fresh flat-leaf parsley leaves · 160 g unsalted cashew nuts
· 1 – 2 tbsp white wine vinegar,to taste
· 110 g extra virgin olive oil
· 100 g lemon juice (approx.2 lemons)
Warm chicken salad and chickpea soup
· 400 g pumpkin, peeled and cut into cubes (1 cm)
· 550 g chicken breast fillet, cut into cubes (2 cm)
· 160 g couscous, rinsed and drained
· 150 g dried chickpeas
· 1 – 11⁄2 tbsp Vegetable stock paste
· 2 brown onions (approx. 300 g),cut into quarters
· 20 g olive oil
· 2 carrots (approx. 240 g), cut intopieces
· 3 – 4 garlic cloves
· 200 g turnip, cut into pieces
· 1100 g water
· 60 g pine nuts, toasted or unsalted cashew nuts, toasted
· 150 – 200 g fresh baby spinachleaves
· 2 tbsp pitted black olives, slicedor pitted Kalamata olives, sliced
· 1 Lebanese cucumber, peeled and cut into pieces
· 250 g cherry tomatoes (1 punnet),cut into halves
· 5 sprigs fresh flat-leaf parsley,leaves only
· 1⁄2 tsp sea salt, to taste
· 2 pinches ground black pepper,to taste
USEFUL ITEMS
· serving jug
· baking paper · serving bowl
PREPARATION
Chunky basil pesto dip dressing
Place Parmesan and garlic into mixing bowl and grate 10 sec/speed 9. Scrape down sides of mixing bowl with spatula.
Add basil, parsley, cashew nuts, vinegar and 60 g of the olive oil and chop Turbo/1 sec/4-5 times, or until a rough but evenly chopped consistency is achieved. Scrape down sides of mixing bowl with spatula.
Add lemon juice and remaining 50 g olive oil and mix 5 sec/speed 6. Transfer into a jug and set aside. Clean and dry mixing bowl.
Warm chicken salad and chickpea soup
Place Varoma dish into position then weigh pumpkin and chicken into it. Insert Varoma tray and line with a piece of wet, well-rung baking paper. Weigh couscous onto Varoma tray. Spread couscous evenly over Varoma tray with spatula. Set Varoma aside.
Place chickpeas into mixing bowl and mill 20 sec/speed 9. Transfer into a bowl and set aside.
Place stock paste, onion, oil, carrot, garlic and turnip into mixing bowl and chop 8 sec/speed 5. Scrape down sides of mixing bowl with spatula.
Add water and reserved chickpea flour to mixing bowl. Place a serving bowl onto mixing bowl lid, then weigh pine nuts or cashew nuts and 130-160 g of the spinach into it. Set serving bowl aside. Place Varoma into position and cook
17 min/Varoma/speed 1.
Arrange olives, cucumber, cherry tomatoes and parsley into serving bowl. Set serving bowl aside.
Lightly stir pumpkin and chicken with spatula to ensure even cooking, then secure Varoma lid and cook for a further 7-9 min/Varoma/speed 1, or until chicken is cooked through. Remove Varoma and transfer chicken, pumpkin and couscous into serving bowl. Pour dressing over and stir to combine.
Add salt and pepper to soup in mixing bowl and blend
30 sec/speed 5-9, increasing speed gradually. Place remaining 20-40 g spinach into the bottom of a thermal serving bowl or other large bowl and pour in soup. Stir to combine and serve soup immediately followed by the salad.
Giveaway
We have 5 x Thermomix cookbook prize pack to be won this week valued at $160 each!
The prize pack includes:
Cooking for your Baby and Toddler
Something for Everyone
Quirky Cooking
Cooking for Me and You
To enter simply complete the entry form below. Good luck!


a Rafflecopter giveaway