Herb and Garlic Bread Pull-Apart Recipe PLUS GIVEAWAY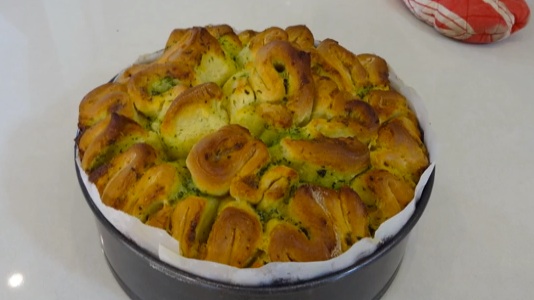 Sponsored post
Herb and Garlic Bread Pull-Apart Recipe
Ingredients
Herb butter
1 garlic clove
5 Sprigs fresh dill, leaves only
5 sprigs fresh flat-leaf parsley, leaves only
6 basil leaves
600g pure cream
500g water, chilled
Bread
450g water, lukewarm
1 tbsp dried instant yeast or 40g fresh yeast
butter for greasing
1 1/2 tsp salt
750g baker's flour, plus extra for dusting
100g olive oil

Preparation
Herb butter
1. Place garlic clove, fresh dill, fresh parsley and basil leaves into mixing bowl and chop 3/sec/speed 7.  Scrape down sides of mixing bowl with spatula.
2. Insert butterfly whisk.  Add pure cream into mixing bowl and whip 1-3 min/speed 4 until solids and liquids have separated.  Remove butterfly whisk.
3. Place water and butter back into mixing bowl and mix.
4. Drain solids through simmering basket again so that only herb butter remains.  squeeze as much liquid out of the butter as possible then place into the refrigerator until ready to use.
Bread
5. Place water and yeast into mixing bowl and beat 3 min/37°C/speed 1.  Meanwhile, grease a springform cake tin (24cm) and place on to a baking tray lined with baking paper.  Set aside.
6. Add salt, baker's flour and olive oil and mix 6 sec/speed, then knead 2 min
7. Transfer dough onto ThermoMat or floured work surface and work into a ball.  Wrap dough in ThermoMat or place into a bowl and cover with plastic wrap or kitchen towel.  Leave to prove in a warm place until doubled in size (approx 30 mins).  Preheat oven to 180°C.
8. Knock down dough then roll into a large rectangle (5mm thick).  Dust with a little flour to prevent butter from sliding.  Spread herb butter over dough.  Using a butter knife or spatula, cut dough into strips (3-4cm wide).  Fold each strip into a concertina pattern and place cut side up into prepared cake tin until all strips are pressed together.  Leave to prove or further 10 minutes.
9. Bake for 40-45 minutes (180°C) until golden.  Allow to cool completely before transferring to an airtight container until ready to use.
Giveaway
We have 5 x Thermomix cookbook prize pack to be won this week valued at $160 each!
The prize pack includes:
Cooking for your Baby and Toddler
Something for Everyone
Quirky Cooking
Cooking for Me and You
To enter simply complete the entry form below.  Good luck!
a Rafflecopter giveaway