Thermomix Recipe: Gadoh Gadoh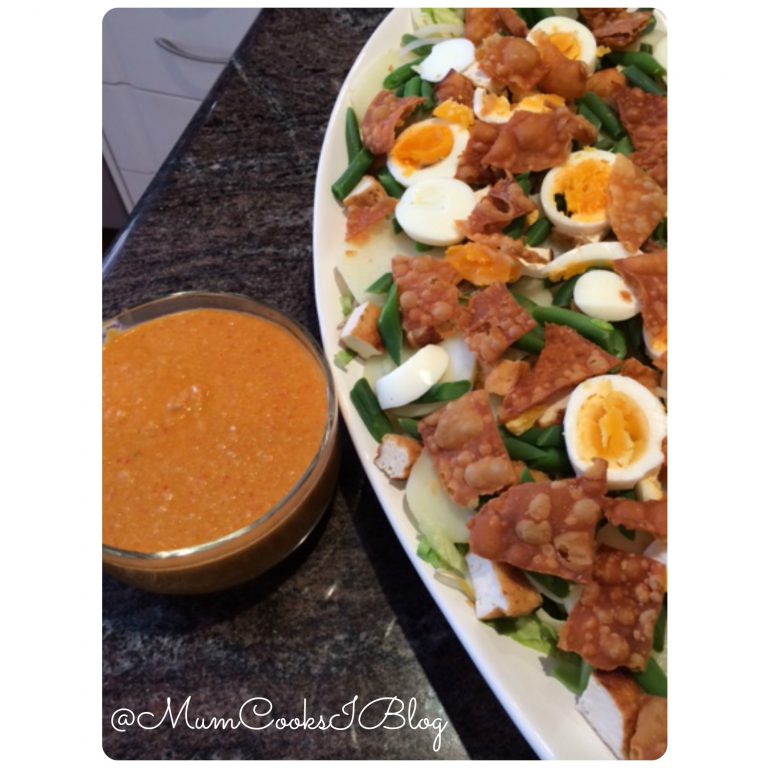 Thermomix Recipe: Gadoh-Gadoh
This is a traditional Asian salad, common in Malaysia and Indonesia. Mum's recipe was devoured at a recent family gathering, apparently they were fighting to lick the bowl. Hence this recipe is in high demand!
Sauce:
4 cups peanuts
3 slices galangal
2 serai (large, use white part of serai)
12 fresh red chillies (or more if you want it hotter) 2 cloves, garlic (peeled)
400gm onions (peeled & quartered)
2cm piece shrimp paste (belachan)
2 tbs sugar (or to taste)
2 tsp salt (or to taste)
50gm lime juice.
400g can coconut milk.
50g oil
Method:
Put peanuts in TMX bowl and chop 5secs/speed 5 or 6, then set aside
Add spices (lemon grass, onions, galangal, chillies, garlic, shrimp paste). Chop 3mins/speed8. Then scrape sides & chop again, 3mins/speed 8.
Add oil in TMX bowl, heat 3mins/varoma/speed 1. Then cook 15-20mins/100C/speed 1 until fragrant.
Add salt, sugar, lime juice and coconut milk. Cook at 10mins/100C/speed 1. Season if needed.
Add 3 cups peanuts and simmer at 5mins/90C/speed 1 until sauce is
thick enough. If you prefer a thicker sauce, add more peanuts & cook a few
minutes more.
Dish out and serve with veggies (salad recipe below).
This sauce is sufficient for 2 large platters. Halve sauce and freeze one half for future use. Salad – Large platter:
8 wantan skins (deep fry & break into pieces) 2 cakes bean curd (deep fry & slice).
Salad recipe:
200g bean sprouts (parboiled)
200g beans (sliced & parboiled)
3 large potato (boiled & sliced) 1cucumber (julienne)
6 leaves cabbage (shredded & parboiled) 6 leaves lettuce (shredded)
8 eggs (hard boiled & sliced)
Layer these veggies in this order – lettuce, cabbage, cucumber, beans, bean sprouts, potatoes, bean curd, eggs. Spread pieces of crispy wantan skin over the veggies last and just before serving (any earlier and they lose their crispiness). Quantities can be adjusted for smaller platters.
Recipe by Mum Cooks I Blog http://www.facebook.com/mumcooksiblog
An unlikely mother and daughter team sharing their Thermomix food journeys from different sides of the country on Facebook or Instagram…. Mum's a great cook, whilst I'm newbie. She cooks Asian, while I lean towards Western. She hasn't a clue about the Internet, hence why I blog!