3 Ingredients: Tim Tam Cheesecake Balls Recipe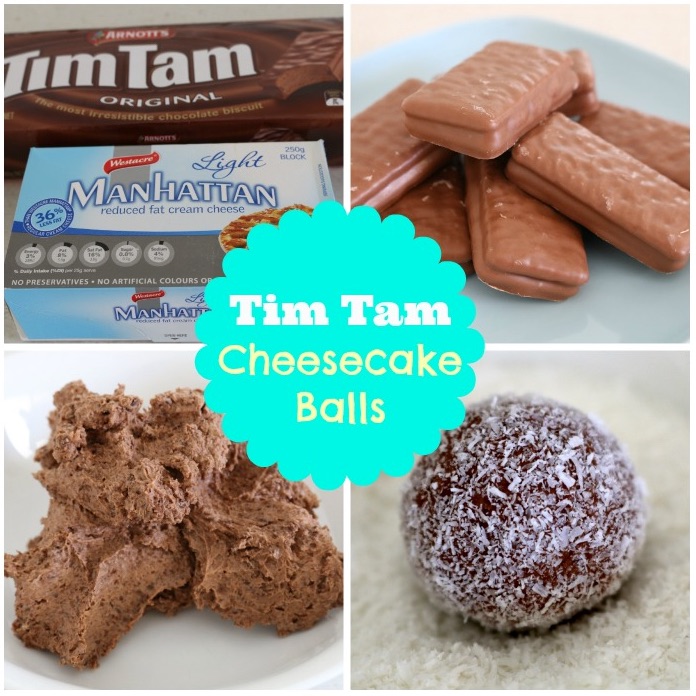 Tim Tam Cheesecake Balls Recipe
Move over rum balls and Oreo truffles… there's a new awesome treat in town – Tim Tam Cheesecake Balls!
These delicious little balls are made with cream cheese and crushed Tim Tims that are then rolled in coconut – how easy is that!
They are just as simple as traditional rum balls and have all the delicious, creamy and rich flavour of Oreo truffles. Oh gosh – you're going to love these babies!
Perfect for a party or cheeky late night snack… these Tim Tam Cheesecake Balls will be loved by the whole family. Why not experiment with your favourite Tim Tams flavours for something a little different? I'm thinking Caramel or Black Forest would be amazing.
The kids will love getting involved in mixing the ingredients together, rolling the mixture into balls and then coating them in the coconut.
These Tim Tam Cheesecake Balls are so simple that the hardest thing about them is stopping yourself from eating all of the mixture straight from the bowl!
If you're looking for a simple and delicious treat to take to a Christmas party or function then these would be absolutely perfect. You could even add in a drop of peppermint essence to make them extra festive. Alternatively, you could always coat these yummy balls in melted chocolate and cover with sprinkles – how cute would that be!
Really the options are endless with these Tim Tam Cheesecake Balls. They really are the perfect recipe to let your imagination run wild with!
Let's get into the recipe…
3 Ingredients: Tim Tam Cheesecake Balls Recipe
Ingredients
2 packets of Tim Tams (400g)
250g cream cheese, softened
1 cup desiccated coconut
Instructions
Crush the Tim Tams in a food processor or Thermomix until they resemble fine crumbs.
Place biscuit crumbs into a bowl and mix with the cream cheese until completely combined.
Roll into heaped teaspoon sized balls and roll in the coconut.
Place into the fridge to harden.
Store in an airtight container for up to 5 days (but trust me, there's no way they'll last anywhere near that long!)
https://mumslounge.com.au/lifestyle/food/tim-tam-cheesecake-balls-recipe/
Makes: 20 balls.