Thermomix Mars Bar Slice Recipe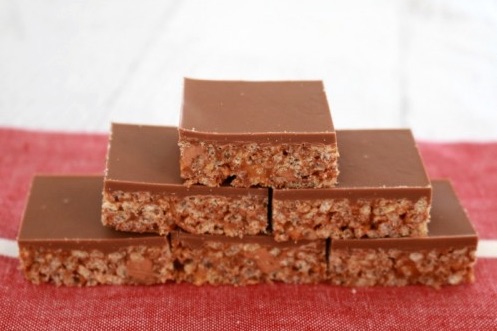 Thermomix Mars Bar Slice Recipe
Mars Bar slice has always been a family favourite recipe. It's quick, easy and oh-so-delicious! So really, what's not to love? Well we've updated this classic recipe and made it Thermomix friendly – so now it's even quicker and easier!!!!
This recipe is great for getting kids involved with helping out in the kitchen. And with the addition of the Thermomix, they can nearly make this recipe all on their own!
Mars Bar slice really does make the perfect lunchbox filler and you can be guaranteed that it will be gobbled up in an instant. Just make sure you grab a few pieces for yourself before it's all gone!
Oh and a little handy hint… buy an extra Mars Bar just in case! Funnily enough, the pieces seem to magically disappear from the time you cut them up to the time you pop them into the slice mixture. Gee I wonder where they could go? I hope the smear of chocolate around my mouth doesn't give away my naughty little secret.
So whether you're looking for a great slice to take to a party, need some lunchbox fillers or are just after some yummy weekend baking, you really can't go wrong with our Thermomix Mars Bar Slice. Enjoy!
Thermomix Mars Bar Slice Recipe
Ingredients
3 cups rice bubbles (or any puffed rice)
3 X 52g Mars Bars, chopped
75g butter
1 tsp golden syrup
200g milk chocolate melts
Instructions
Grease and line a 20cm square cake pan with baking paper.
Place 2 of the Mars Bars, butter and golden syrup into the TM bowl.
Melt on 60 degrees, Speed 2 for 3 minutes.
Add the rice bubbles and the remaining Mars Bar.
Mix on Reverse Speed 2 for 15 seconds or until completely combined.
Press the mixture into the prepared tin and place into the fridge.
Place the chocolate melts into a clean TM bowl.
Melt on 50 degrees, Speed 3 for 2-3 minutes (scraping down the sides of the bowl occasionally).
Pour the melted chocolate over the slice and place back into the fridge to set.
Cut into slices.
https://mumslounge.com.au/lifestyle/food/thermomix-mars-bar-slice/