Tomato Curried Sausages Recipe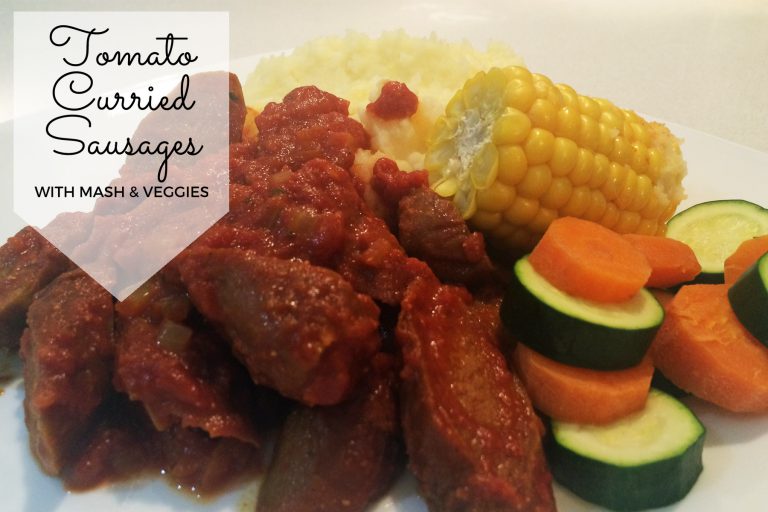 Tomato Curried Sausages Recipe
We're always looking for something new to make with sausages, right? They are cheap, tasty and family friendly, and definitely a meat-staple in our home. These tomato curried sausages fit the "different and exciting" bill perfectly when the fam have had enough of devilled or the normal curried sausages I usually serve.
The recipe is quick and simple and only calls for pantry staples, nothing too fancy or expensive here! Perfect for a mid-week meal that everyone will enjoy.
Serve with a creamy mash and your favourite steamed vegetables – I've gone for mashed potatoes but this would work beautifully with a sweet potato or pumpkin mash too.
And if you like your curries a little spicier, feel free to add a little more curry powder to the dish. The amount of curry powder in this recipe is suitable for children so it's not all that spicy. If I were to cook this for adults, I would double the amount of curry powder to heat things up a little bit.
Tomato Curried Sausages Recipe
Ingredients
8 beef sausages
1 teaspoon olive oil
1 brown onion, finely chopped
1 teaspoon mild curry powder
3 teaspoons sundried tomato pesto
2 x 400gm cans diced Italian tomatoes
Mashed potatoes and your favourite steamed vegetables to serve
Instructions
1. Preheat grill on medium heat. Prick each sausage with a fork and place onto grill tray. Grill, turning twice, for 10 minutes or until cooked through. You could pan fry the sausages if preferred. Using a serrated knife, slice sausages diagonally into 1.5cm-thick pieces.
2. Heat oil in a large saucepan over medium heat. Add onion and cook, stirring, for 5 minutes or until soft.
3. Add curry powder and sundried tomato pesto to saucepan. Cook, stirring, for 1 minute. Add tomatoes, sausages, and salt and pepper. Reduce heat to medium-low and cover, then simmer for 15 minutes or until sauce thickens slightly.
4. Serve sausages with mashed potato and steamed vegetables.
https://mumslounge.com.au/lifestyle/food/tomato-curried-sausages/