Mini Raspberry Cheesecakes Recipe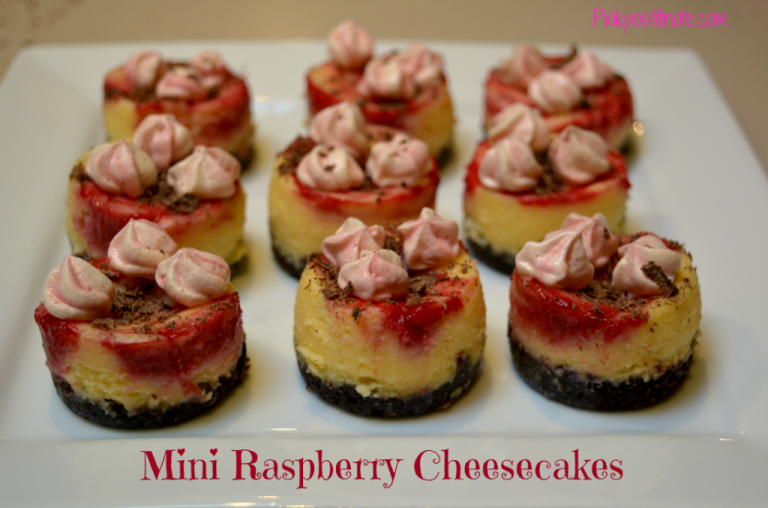 Mini Raspberry Cheesecakes Recipe
If you don't know or I haven't mentioned it previously my husband has a trucking business and I started a tradition a while back that whenever any of the boys has a birthday I would make some cupcakes, take them down to the yard (where the trucks live), pop them in the fridge and everyone gets a treat after work and the birthday boy/girl gets to take the leftovers home. I decided on cupcakes because no forks are required, no plates are required and no knife is required. Most of the drivers end up pretty dirty by days end so anything that has minimal handling is very well received.
These mini raspberry cheesecakes ended up as one of these birthday treats just for something a little bit off the beaten-cupcake track. I had a mini cheesecake tray sitting around collecting dust in my pantry (like a cupcake tray but smaller with removable bases) and although I thought I would use it all the time when I bought it I still hadn't come up with any real use for it.
Then as I was staring at it I thought, what if I make a cookie base, a raspberry cheesecake filling and then top them with some cute little meringues? Not very manly I realise but hey, I HAD to use that bloody tray. It was driving me nuts. Oh – if you don't have a mini cheesecake tray that is covered in dust from lack of use, just use those little cardboard patty cases in a patty tray or make them cupcake size!
Anyway, these were a MASSIVE hit. Everyone absolutely raved about them. And they are just so damn cute!
Mini Raspberry Cheesecakes Recipe
Ingredients
Base
1 cup crushed Oreo biscuits (including filling)
40g unsalted butter, melted
Cheesecake
1/2 cup frozen raspberries, thawed
2 tbsp icing sugar
250g cream cheese, softened
3/4 cup caster sugar
2 eggs
1 tsp vanilla
Meringue
1 egg white
1/4 cup caster sugar
pinch of cream of tartar
shaved chocolate, to decorate
Instructions
Pre-heat oven to 170C/150C fan-forced.
Base: Combine the crushed biscuits with the melted butter and pat into the bases of pan or paper cases.
Cheesecake: Place the raspberries in a sieve and press with the back of a spoon into a bowl, discard seeds. Stir in the icing sugar. Beat the cream cheese with an electric mixer until smooth. Gradually add the sugar, then beat in egg and vanilla. Divide amongst the mini-pans or paper cases. Put a teaspoon of raspberry on top of cakes and use a wooden skewer to swirl through the mixture. Bake for 10-15 minutes until just set. Cool to room temperature then refrigerate for 2 hours to set.
Meringue: Beat the egg white with an electric mixer until stiff peaks form. Gradually add the sugar a spoon at a time until dissolved. Add a few drops of pink food colouring and swirl through the egg white. Pipe onto a baking tray lined with non-stick baking paper. Lower oven temperature to 120C/100C fan-forced for 30 minutes. Allow to cool. Decorate set cakes with a few meringues and sprinkle with shaved chocolate.
https://mumslounge.com.au/lifestyle/food/mini-raspberry-cheesecakes/