Win The Best of the Wiggles and The Best of ABC Kids Vol 4 CD Albums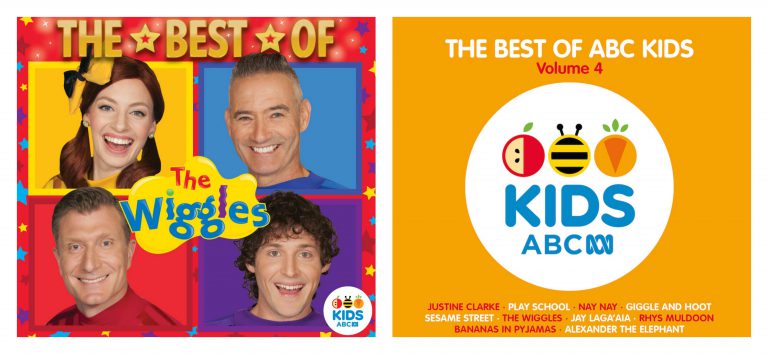 Win The Best of the Wiggles and The Best of ABC Kids Vol 4 CD Albums
If you and your little people need some new tunes to bop to in the car or around the house look no further! These two new albums are sure to delight mini music fans.
The Best of the Wiggles Album
The Wiggles are celebrating their 25th Anniversary this year and so bring this very special musical treat for their fans, 33 of their biggest hits and most loved songs – The Best of The Wiggles.
The most successful children's entertainment group in the world has set records for their sold out performances, and songs that are instantly memorable and will get you wiggling in seconds!
The New York Times have called The Wiggles "the band that rocks the cradle" and this is certainly true. Emma Watkins, Lachy Gillespie, Simon Pryce and Anthony Field have picked the best for you to listen to with this release of their most loved songs like, "Rock A Bye Your Bear", "Do The Propeller", "Apples & Bananas" and "Ready, Steady, Wiggle", but snap it up as this CD The Best of The Wiggles will go like…. HOT POTATOES!
The Best of The Wiggles album is out on May 27- available on CD and digital download
The BEST OF The Wiggles ALBUM TRACK LISTING:
1. Hot Potato
2. Do the Propeller!
3. Ready, Steady, Wiggle!
4. Rock-A-Bye Your Bear
5. Who's in The Wiggle House?
6. Toot, Toot, Chugga Chugga, Big Red Car
7. Can You (Point Your Fingers and Do the Twist?)
8. Emma's Theme
9. Apples and Bananas
10. The Wonder of Wiggle Town
11. Fruit Salad
12. Follow The Leader
13. Rock & Roll Preschool
14. Say the Dance, Do the Dance
15. Twinkle, Twinkle, Little Star (2012)
16. Emma's Christmas Bow
17. Dorothy Pas de Deux
18. I've Got My Glasses on!
19. Lachy!
20. Do The Pretzel
21. Simon Says
22. Come on Down to Wiggle Town
23. Michael Finnegan
24. Do the Skeleton Scat!
25. When I Hear The Music of the Orchestra
26. Henry Likes Water
27. Pappadum
28. The Shimmie Shake!
29. Wags the Dog, He Likes to Tango
30. Dressing Up
31. Simon's Cold Water Blues
32. D-I-N-G-O
33. Dance with Emma
The Best of ABC Kids Volume 4 Album
Following on from the huge success of volumes 1, 2, & 3, ABC Kids deliver volume 4 in their collection of iconic pre-school artists together on one album.
The Best of ABC Kids Volume 4 features 27 tracks from much loved Australian children's entertainers such as Justine Clarke, Sesame Street, The Wiggles, Bananas In Pyjamas, Giggle & Hoot, Jay Laga'aia, Nay Nay, and Rhys Muldoon.
'Dancing Pants', 'Who's in The Wiggles House', 'Song to Make You Smile', 'Elmo's Song, Open Shut Them','Hoot, Hoot It's a Lovely Day' and many more feature on this album that is sure to delight children as they sing and dance to their favourite ABC Kids tunes and performers.
Album available on CD and digital download from ABC Shop here
Album Tracklisting:
1. Justine Clarke – Dancing Pants 3:50
2. Nay Nay – Bubble Pop 2:12
3. Play School – What Do You Think My Name Is? 1:34
4. Bananas in Pyjamas – Good Morning 1:56
5. Giggle and Hoot – Hoot! Hoot! It's a Lovely Day
6. Ali McGregor – A-Tisket A-Tasket 1:40
7. Sesame Street – Elmo's Song 2:29
8. Alexander the Elephant 1:55
9. The Outback Aussie Show – Jump Like a Kangaroo 1:47
10. Animals Rock – Green Tree Frog 2:39
11. The Wiggles – Ready Steady Wiggle 0:33 12. Rhys Muldoon – Bumblebee 2:29
13. Giggle and Hoot – The Gigglemobile 1:20
14. Bananas in Pyjamas – B-a-n-a-n-a-s 2:28
15. Nay Nay – I Have a Voice 2:43
16. Emma! – Ballerina, Ballerina 1:06
17. Alexander the Elephant – Red Ant Sandwiches 2:07
18. The Outback Aussie Show – Making Music with My Friends 2:03
19. Rhys Muldoon – Bob the Bear 2:39
20. The Wiggles – Who's in the Wiggle House 1:31
21. Justine Clarke – Song To Make You Smile 2:23
22. Animals Rock – The Happy Horse 3:16
23. Jay Laga'aia – Five Little Ducks 2:11
24. Play School – Down in the Meadow 2:00
25. Sesame Street – Rubber Duckie 2:25
26. Jay Laga'aia – Open Shut Them 1:43
27. Ali McGregor – The Lion Sleeps Tonight 2:46
Giveaway
We have 10 copies of each title to giveaway!  To enter, simply complete the entry form below.  good luck!
a Rafflecopter giveaway