Warm Chorizo, Pumpkin and Soft Boiled Egg Salad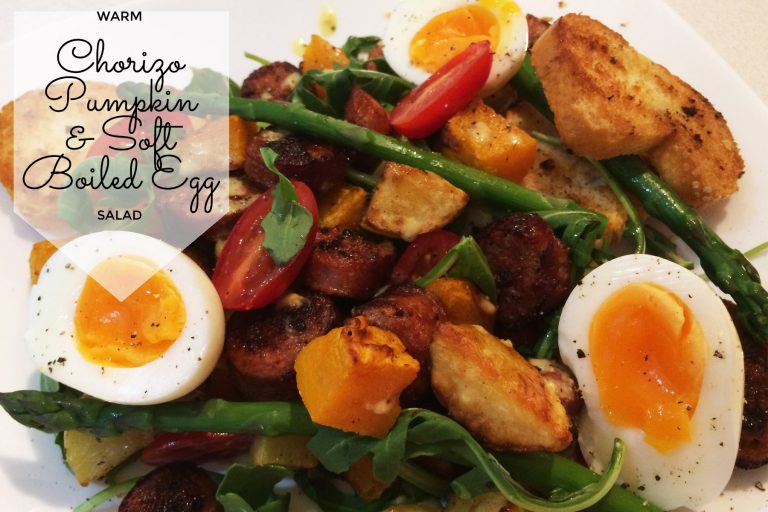 Warm Chorizo, Pumpkin and Soft Boiled Egg Salad
I love love love warm salads. They bring together crisp summer veggies with hearty comforting roast potatoes and pumpkin. Warm salads are seriously the best of both seasons on one plate.
My all-time favourite warm salad is undoubtedly this Warm Honey Mustard Chicken and Bacon Salad which I've been insisting people make since 2010. But this recipe for Warm Chorizo, Pumpkin and Soft Boiled Egg Salad is a close second!
Let me show you how to make it.
Your ingredients list includes a packet of chorizo-style sausages from the meat department of your local supermarket. I mean, you could use actual chorizo sausages from the deli, but they might get a bit expensive if you're feeding as many people as I am.
You'll also need about half a butternut pumpkin, about 500g of baby potatoes, some eggs, asparagus, baby rocket, cherry tomatoes, olive oil, lemon juice and dijon mustard. And a French bread stick too.
Cut up your pumpkin into cubes and quarter your baby potatoes and pop them on a baking tray with some oil and seasonings and put them in the oven for about 40 minutes or so.
Meanwhile, cut up the chorizo sausages and pan fry until golden. Cut the French stick into 1m rounds and pan fry those too. Blanch the asparagus and chop the tomatoes. Put the eggs in a saucepan full of cold water, bring them to the boil and cook them for four minutes, then refresh under cold water and peel. Whisk together the mustard and lemon juice.
Now put everything (except the eggs) in a big bowl and toss to combine. Divide your warm salad among your serving plates, top with egg halves, salt and pepper and dressing.
I hope you enjoy this yummy salad as much as we did!
You could adjust your quantities for more people by bulking it up with more potatoes, pumpkin and croutons if need be, and conversely, you can omit quite as many for a fewer group. This recipe easily served two adults and four children.
Warm Chorizo, Pumpkin and Soft Boiled Egg Salad
Ingredients
1kg butternut pumpkin, peeled and cut into cubes
500g baby potatoes, quartered
4 tbsp olive oil
6 chorizo-style sausages, thinly sliced
½ French loaf, cut into 1cm thick rounds
6 eggs at room temperature
2 bunches of asparagus, trimmed and blanched
100g baby rocket leaves
1 punnet cherry tomatoes, halved
1 tsp Dijon mustard
1 tbsp lemon juice
Instructions
Preheat oven to 180 degrees and line a baking tray with paper. Place pumpkin and potatoes and half the oil on tray and season. Toss well to coat and bake for 40 minutes or until tender and golden. Transfer to a large bowl.
Heat remaining oil in a large frying pan over moderate heat. Add chorizo and cook, stirring for 3 minutes until golden and crisp. Remove to a plate with a slotted spoon and add to bowl with pumpkin and potato. Add bread slices to the pan and cook for a minute or two until golden. Add to bowl.
Meanwhile, place eggs in a medium saucepan and cover with cold water. Bring to boil over moderate heat, gently stirring to centre yolks. Boil without stirring for 4 minutes. Drain and refresh under cold running water, then peel.
Add asparagus, tomatoes and rocket to the bowl, tossing to combine. Whisk the mustard and lemon juice together. Arrange on serving plates topped with salt and pepper, dressing and halved eggs. Serve immediately.
https://mumslounge.com.au/lifestyle/food/warm-chorizo-pumpkin-soft-boiled-egg-salad/