Warm Potato & Chicken Salad Recipe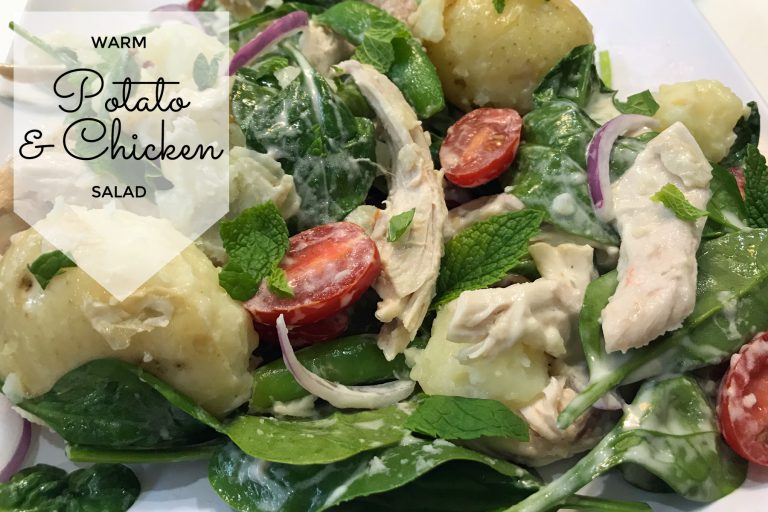 Warm Potato & Chicken Salad Recipe
This amazingly fresh and zingy warm potato and chicken salad recipe can be ready in as long as it takes to boil some baby potatoes and pull the meat off a barbecue chicken. In other words — not long at all!
Pick up the ingredients on your way home from work and have this meal on the table within about twenty minutes or so, ready for the whole family to enjoy. Put in on a big platter and let them help themselves. They'll no doubt be going back for seconds!
Here is what you'll need to make this family-friendly salad:
One bag of baby potatoes, one bag of baby spinach, a barbecue chicken, some asparagus, a red onion, tomatoes, mint, horseradish cream, mayonnaise and lemon juice. That's it!
You can use whole tomatoes and chop them into chunks or use halved cherry tomatoes. You can add sugar snap peas or any other salady-type vegetable too if you like, totally up to you.
So first things first — you need to pop the potatoes into a large saucepan and cover them with water. Put the lid on and bring to the boil over high heat, then cook for 12 minutes. Add your green veggies to the pot with two minutes of cooking time remaining.
When the potatoes are cooked, squish them gently with a fork to crush them a little. Add them to a big bowl with the asparagus and/or beans.
Meanwhile, pull all the meat off the barbecue chicken and shred. Add to the bowl with the baby spinach, chopped tomatoes and mint.
Combine the mayo, horseradish cream and lemon juice in a jug and whisk to combine.
Now toss everything together with the dressing and heap onto a serving platter. Serve immediately!
My family loved this salad, and we'll be enjoying it again and again over the summer. It's just so easy to throw together with a quick trip to the shops on the way home from cricket training!
Warm Potato & Chicken Salad Recipe
Ingredients
1kg chat potatoes
1 bunch of asparagus, cut into 4cm lengths
120g baby spinach
½ cup mayonnaise
1 ½ tbsp horseradish cream
2 tbsp lemon juice
1 bbq chicken, meat removed and chopped
1 red onion, cut into thin wedges
1 punnet cherry tomatoes, halved
2 tbsp roughly chopped mint
Instructions
Place potatoes in a saucepan, cover with cold water and bring to the boil over high heat. Boil for 12 minutes or until just tender, adding the asparagus during the last 2 minutes of cooking time. Drain, and using a fork, lightly crush the potatoes. Transfer to a large bowl.
Whisk mayonnaise, horseradish cream and lemon juice in a jug.
Add remaining ingredients to the potatoes and asparagus bowl, add the dressing and toss to combine. Serve immediately topped with extra mint leaves.
https://mumslounge.com.au/lifestyle/food/warm-potato-chicken-salad-recipe/