Is Your Cookware Making You Sick? GreenPan's Healthy Non-Stick Alternative: Review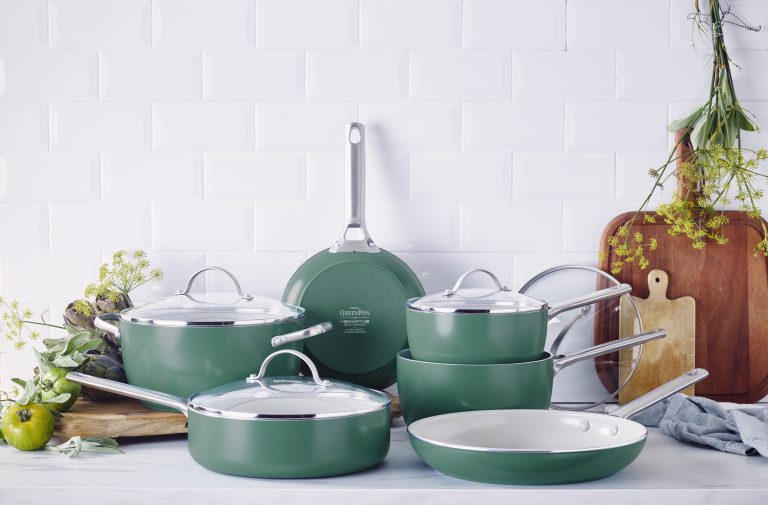 GreenPan's Healthy Non-Stick Cookware Review
For many, many, months I've been promising to ditch the old, worn and mismatched collection of kitchenware I've collected over the years, and replace it with something more stylish and of a higher quality. As a mum of 3, I can often be found in the kitchen preparing meals and snacks, but it's also something that I enjoy, and for me, is a way of nurturing and expressing love. That probably goes some way to explaining why my kitchenware looks like it's had a hard life! However, each time I went online to compare different brands, I felt completely overwhelmed. I had no idea which materials and which brands would give me the best bang for my buck. (I had no idea that this wasn't all I should be making my choice based on!)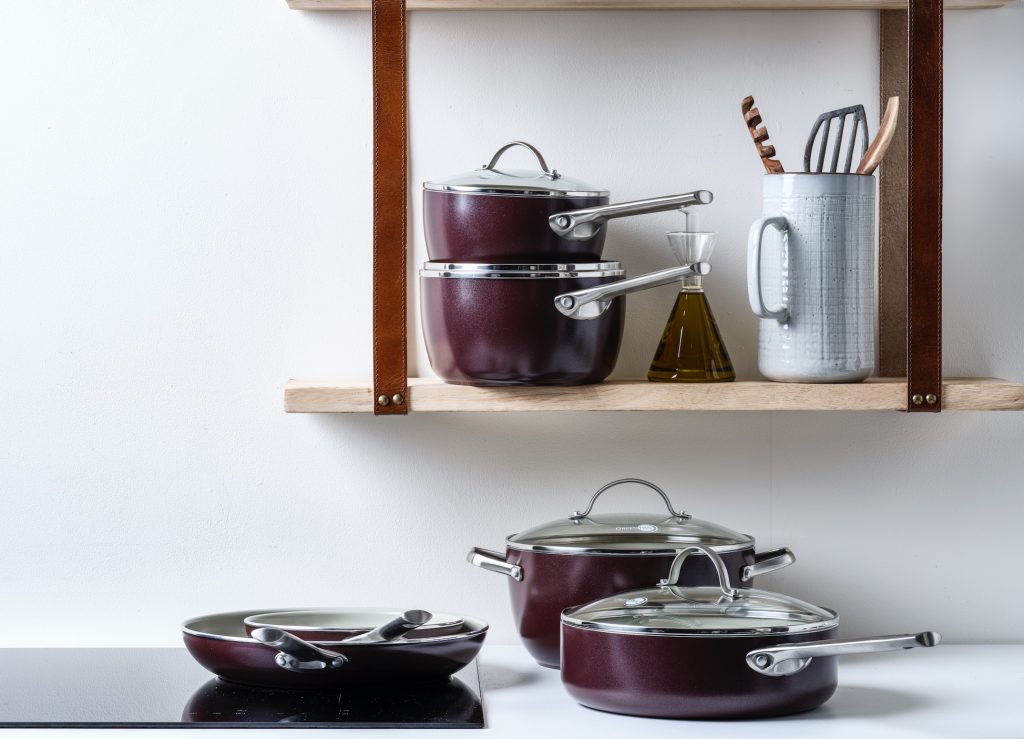 But, as the mystical kitchen-Gods would have it, an opportunity arose last month for me to review GreenPan's new Padova collection that has been recently released in Australia. No prizes for guessing how I answered that email!
What Makes GreenPan Different?
GreenPan is a Belgian brand that has earned their reputation in more than 100 countries. It's the brainchild of two school friends, Jan Helskens and Wim Veirman, who set out almost 15 years ago, to create a healthier alternative to traditional non-stick pans after they discovered that they release toxins when overheated and use PFAS during the manufacturing of the coating.
Let's just take a moment to reread that and let it sink in. Our non-stick pans (which we adore because they are easy to clean) may be releasing toxins into the food we feed our family? Call me naïve, but I foolishly just assumed that if something was made for me to cook in, it would be safe to eat food from?! And PFAS? Huh? What on earth are they?
What are PFAS?
Per-and-polyfluoroalkyl substances (or PFAS for short) are man-made chemical compounds developed by scientists to make products water, grease, and dirt-repellent. They are a common component found in everyday items such as waterproof clothing, food packaging, cosmetics, textiles, and various non-stick cookware. Not only are these PFAS not a natural part of our eco-system, they take an incredibly long amount of time to be broken down, with some possibly lasting over a thousand years! This means that, almost all of the PFAS that were ever created and released into the environment still linger on our planet to this day!
There are 4700 PFAS currently in existence, and as Elsie Sunderland, associate professor of environmental science and engineering in the Department of Health at Harvard T.H. Chan School of Public Health, told ProPublica, scientists are only just beginning to understand that they may pose a far greater health risk than previously thought.
A recent review from the U.S. Centres for Disease Control and Prevention (CDC) outlines a host of health effects associated with PFAS exposure, including cancer, liver damage, decreased fertility, and increased risk of asthma and thyroid disease. Even more worrying, a study published in Environmental International in Karolinka Instutet in Sweden showed how PFAS industrial chemicals are passed from pregnant women via the placenta and accumulate in the unborn child.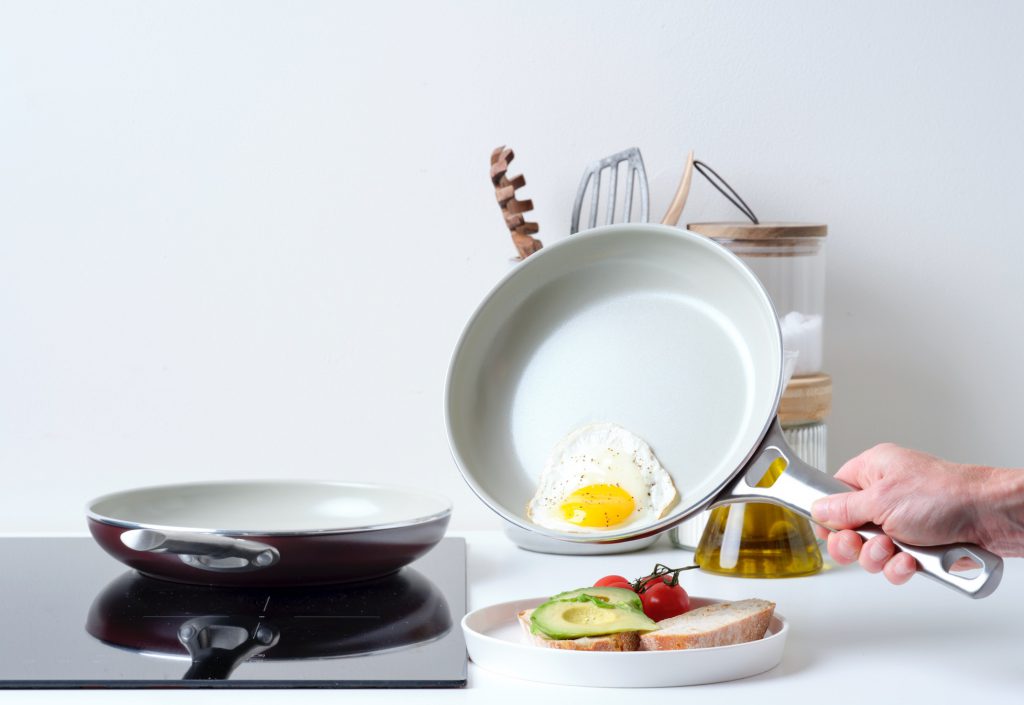 GreenPan's Healthy Ceramic Non-Stick Padova Cookware
Crafted from durable hard-anodised aluminium, this collection is designed for maximum strength and scratch protection. Each piece features GreenPan's signature Thermalon Infinity Professional coating, a ceramic non-stick coating that's PFAS free. Lightweight and durable, this collection is made to stand up to daily demands while providing incredible performance.
Features:
Thermalon Infinity Professional healthy ceramic non-stick coating is PFAS-free and diamond-infused for extraordinary performance
Strong hard-anodised construction for maximum strength and scratch resistance
Stainless steel with wear-and-corrosion resistant coating
Easy to wipe clean and dishwasher safe
Oven safe to 315 °C
For all stovetops, including induction
Available in three colours; chocolate truffle, taupe, and artichoke green
Conclusion
It is shocking to me that despite research showing that these so-called 'forever-chemicals' that end up in the air, the water, the earth and the food chain, are harmful to human health, they continue to be produced. It's clearly up to us to do the research and make the smart, health choice for ourselves, our families, and our planet. If we stop buying the old products that contain these harmful chemicals, they'll have to develop healthier alternatives, right?
Fortunately, thanks to GreenPan, that healthy alterative already exists, and has doneso for almost 15 years! If only I had known earlier!
My thoughts:
Despite running the risk of sounding terribly middle-aged darling, I have to say the GreenPan Padova collection is beautiful! Yes. There I said it. It really adds a touch of luxury to the kitchen and to the cooking experience itself. I am in love with the artichoke green colour!
Despite being tough and durable, the cookware is surprisingly light-weight and easy to handle.
Talking of handles, I particularly love the sleek, oven safe, stainless steel handles.
Whether you are using an induction, electric, or gas stovetop, you can expect fast, even heat distribution.
We've been using this for a few weeks now (and when I say we, I predominantly mean me!), and not a scratch in sight. Having said that, I will not be allowing my husband within an inch of them with his stainless steel, BBQ tool, to put it to the test. I still haven't forgiven him for gouging deep crevices into a new pan I invested in last year!
They live up to their non-stick name, and are extremely easy to clean.
I love that I can create nutritious, flavourful family meals without wondering what toxins I might be serving up too!
The GreenPan Padova Collection is available in Australia now, exclusively at Myer.
Disclosure: I was gifted a selection of GreenPan cookware for the purpose of writing a genuine review. All thoughts and opinions expressed here are my own.