Kmart Hack – How to Make a PomPom Velvet Cushion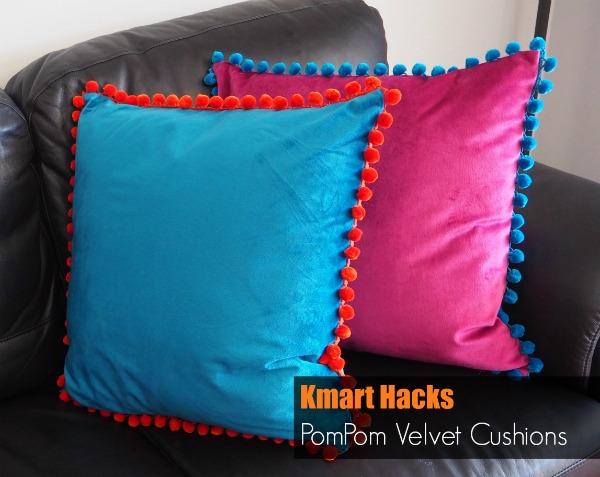 Kmart Hacks are all the rage at the moment. It's all about getting the latest range of Kmart home wares and adding your personal touch to them so they fit in with the existing décor of your home.
Kmart has a great range of cushions that are up to date with the current textile trends in interiors. Velvet is a beautiful texture that looks grand in living rooms and on beds. To give the velvet cushions a bit of an edge, why not try our Kmart Hack and add a pompom trim for a unique Boho look? This no-sew cushion is so easy, you could even get your kids to help you do it.
You will need
1 Kmart Velvet Cushion in your choice of colour (teal, purple or grey) $12
2.4 meters of pompom trimming (purchased from a craft store at approx. $3.50 per meter)
Fabric glue that dries clear and disintegrate in the wash
Paddle Pop Stick
Fabric scissors to cut the trimming easily
What to do
Remove the insert of the cushion so the trimming can be easily added to the cushion cover.
Gather your supplies
Lay the trimming against the edge of the cushion cover and cut to suit.
Measure and trim on all edges.
Add glue to the outer rim of the cushion cover and place the trimming on accordingly.
Use your finger and the paddle pop stick to press the trimming down into the glue.
Once the trimming is added, allow the glue to dry up to 24 hours before placing the insert back into the cushion. The glue will dry clear.
Once you've made one of these cushions, you will want to make more. They make great gifts as well for under $30.
Have you jumped on the Kmart Hack train? What was the last thing your purchased from Kmart?