Make Your Own Egg Carton Sewing Kit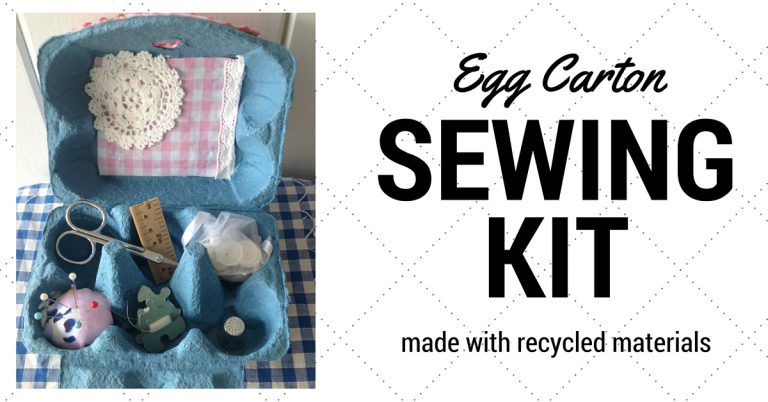 Make Your Own Egg Carton Sewing Kit 
Here is something nice that your little one and you can do together. I bet that it would be a lovely first sewing kit or a present that any Granny, Aunty, or fairy godmother would cherish!
Perhaps Dad can help make one for Mum for Mother's Day!
It doesn't take long and all you need are some scraps and bib and bobs, Annie and I used an old dress that no longer fitter her and pulled it to pieces, using the buttons, the fabric and the lace, the rest of the kit came from a $2 sewing kit from the local discount shop.
You don't really have to follow these instructions at all, just let your child decorate the box with any sort of fabric or paper that they want, think about including a photo or two or a little note.
Glue a piece of fabric onto the top of the egg carton and allow to dry before trimming.
Glue some rick-rack or ribbon around the edges for a nest look.
Decorate with a pom-pom or fabric yo-yo or even a cute ribbon bow.
Inside
Taking a circle of fabric loosely sew around the edges till you can draw the fabric in to make a ball, using stuffing to pad it out.
Glue the ball into one of the egg holes of the carton to make a cute needle holder.
On the inside of the lid of the egg carton decorate as you wish, using scraps of fabric, lace nd ribbon or paper.
Fill the carton with buttons, scissors, a tape measure and anything else you wish to keep in the carton
The important thing about this is that the child gets to be creative, help them to think about who the sewing kit is for and what they might like and what would please them. If it's a gift for an uncle or brother then it might want to be a bit more masculine, a teenage sister might like more bling..
The whole point is to make something personal and show some creativity and spend time creating something special. That is what makes it so special!