Say Goodbye to Plain Parties!

My Top 3 Garland Picks
Question – How do you turn a plain and boring party setup into a room of delicate fancy with ANY budget?
Answer – Garlands!
Don't be fooled by their dainty appearance, these babies are going to give your party the pop of colour and fun you need.
To save you from scouring the web for hours, here are my top 3 garlands for your party pleasure. If you are feeling crafty, they are easily made yourself or as a weekend project with the kids.
PAPER BUNTING FLAGS – Great for kids parties
A tried and true favourite on the party scene, paper bunting flags can be strung along the front of the main table or across the walls as a backdrop. If you are short on time you can buy these in your local party shop or online, otherwise you can make your own customised bunting. All you need is coloured card cut into triangles, a hole punch for the top corners and string cut to length. Try mixing and matching colours, patterns and textures for a truly unique look.

Image via: Pink Frosting www.pinkfrosting.com.au
TISSUE PAPER FLOWER GARLAND – Great for adult parties
This beautiful garland is the perfect backdrop to any dessert table. If you regularly channel your inner Martha Stewart and make tissue paper flowers, then creating your own will be a cost effective solution requiring only tissue paper in your favourite colour and string. If DIY is not your style then you can buy this garland on Etsy.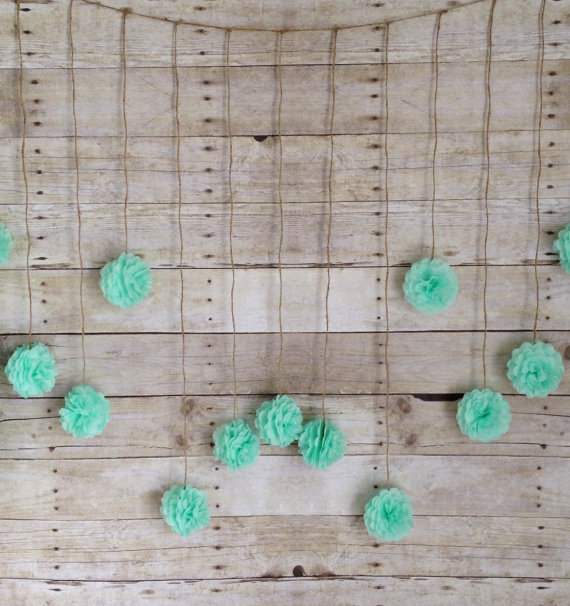 Image via: Giddy For Paisley http://www.etsy.com/au/shop/giddy4paisley
GLITTER SCALLOP GARLAND – Great for special occasions
Add some real wow factor with a sprinkle of sparkles. This glam garland looks most effective strung across a section of a room in rows or as the cake table backdrop. You can get this dreamy gold and silver statement piece here but I kid you not, if you have the materials ready you can make your own version in less than 20 minutes. Yes, I just said 20 minutes!
Image via: Le Petite Fest http://www.etsy.com/au/shop/LePetiteFest
What is your favourite party garland? Let me know in the comments below!
Jade McKenzie is a haze of event plans, out of the box ideas, overflowing favourite bars, excel spreadsheets, "yay's!" and nappy changes. As the Chief Party Planner for party styling and hire service Event Head, she gets to indulge in some of the biggest loves of her life – tissue paper decorations and cake. Oh dear.
Website: www.eventhead.com.au