Dino Meal Review and Giveaway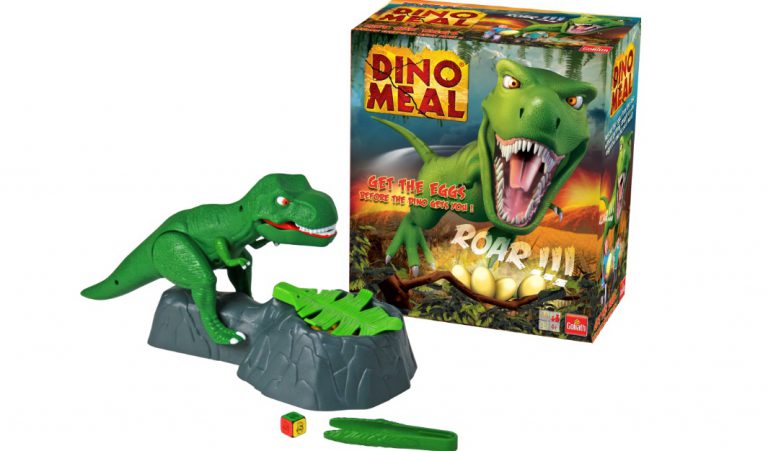 Dino Meal Review and Giveaway
The cold weather has really set in now here in Melbourne – so we've been spending a lot more time than usual around the house. Engaging all three children in an activity (that doesn't involve them staring at a screen of some description) can sometimes be tricky, as they often have different interests and skill levels.
I was recently given the opportunity to review the Dino Meal game from Goliath with the kids – and of course, accepted happily. What kids don't love an hour spent with Mum, Dad and/or the grandparents playing a board game or the like?
The Game:
Dino has stolen the eggs from another dinosaur and he has put them in his nest. The players have to rescue the eggs back from Dino using the tweezers before Dino attacks.
It's exciting to rescue as many eggs as possible…but watch out! If Dino realises what you're up to…he will attack you…and you are out of the game!

The verdict:
We loved the excitement and suspense of not knowing when Dino was about to strike.
Picking up the dinosaur eggs with the tweezers was sometimes tricky – making it an excellent hand and eye co-ordination activity. (Younger children who find using the tweezers difficult can play using their fingers and still have fun identifying the correct colours).
Family game times are also a great opportunity to practice turn taking, and good sportsmanship. Whilst Bubble initially struggled with the concept of missing a turn, after a few rounds she had learnt to accept it more gracefully, and even offer words of support to others who missed a turn.
We have 'Dino Meal' game (RRP $34.99) to give away to one lucky family.
To enter, simply complete the entry form below. Good luck!
a Rafflecopter giveaway
Disclosure: I was gifted this product for the purpose of an honest review.