Easy and Delicious Homemade Aussie Beef Burger Recipe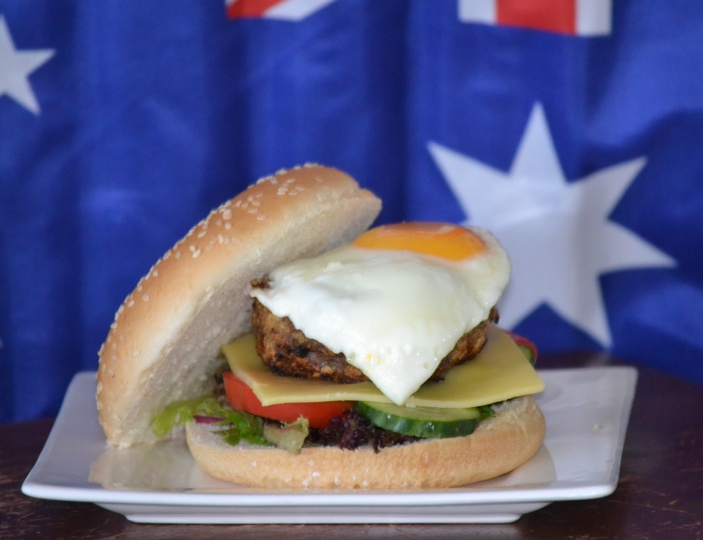 Sponsored post
Whether you are looking for meal inspiration for an Aussie backyard BBQ, or a meal you can have fun with the kids making, this super easy and delicious homemade Aussie beef burger recipe will have everyone coming back for more.
Homemade Aussie Beef Burger Recipe
Ingredients for the Patty:
600g Mince Beef
½ cup Quick Oats
1 Egg
1 tablespoon Worcestershire sauce
Red Onion Finely Chopped
Mixed Italian herbs
Pepper
Filling:
Your choice of salad
Fried egg to top
Tip: To save time, and tears, you can substitute a packet of dry onion soup mix for the finely chopped red onion!
Although I usually buy the leanest meat for my family, for burgers I recommend selecting the cheaper mince meat  The extra fat will help hold the patty together and keep it moist.
The great thing about this recipe is that you'll probably have most of the ingredients in your fridge or pantry, and can get anything you don't have on hand without any problems. For whatever I was missing, I just popped down to my local IGA, easy!
Method:
Put the mince beef into a large mixing bowl.
Add the quick oats and the eggs.
Add a dash of Worcestershire sauce, the chopped onions, a few sprinkles of herbs, and season with pepper.
Using your hands mix the ingredients together and form into patties of 2-3cm thickness, taking care not to over-kneed them.
Tip: Dipping your hands in warm water will make the burgers easier to handle and shape.
Refrigerate burgers for 10-15minutes until firm.
Cook on Barbeque or under grill until cooked through.
Serve in a bun with salad and top with a fried egg.
For best results enjoy with friends and family!
Disclosure: This post is sponsored by IGA Australia. However all thoughts and opinions are my own.