Healthy Family Recipes: Awesome Watermelon Smoothie Life Hack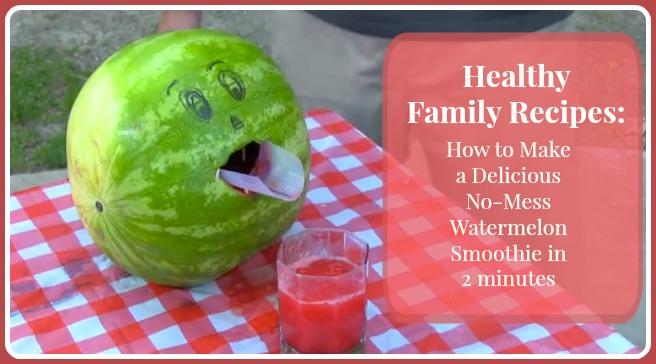 Healthy Family Recipes: No Mess Watermelon Smoothies
Is there anything better on a hot summer day than a chilled slice of watermelon?
Kids love anything that they can eat on the go, that doesn't drag them away from splashing in the paddling pool, or digging in the sandpit, don't they?
And as parents we love anything healthy that we can feel good about feeding them.
Well, thanks to Youtube user Mark Rober, watermelons just got even more awesome!
This is definitely a life hack that my Hubby would get behind, and of course the kids would think he was it and a bit for doing it! Something tells me that after sharing this healthy family recipe idea, there will be plenty of watermelon smoothies in my family's foreseeable future!
How to Make a Watermelon Smoothie
In his Youtube video Mark Rober demonstrates how to make a delicious watermelon smoothie like a BOSS!
This idea is perfect for playdates, picnics, birthday parties etc.
(I bet it would also be great at an adult party with some vodka added!)
You will need:
A whole watermelon (chilled)
A clean coat-hanger
A drill
A plastic cup cut in half
Directions:
Watch the video below for instructions on how to make the watermelon smoothie that'll have all the kids running to your yard!
How awesome is that? Will you be giving this a try this summer?