Hot Cross Buns: Fun Facts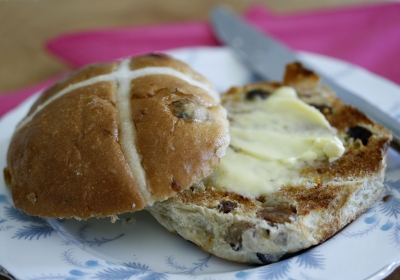 Image: Clare Bloomfield / FreeDigitalPhotos.net
Hot cross buns!
Hot cross buns!
One ha' penny, two ha' penny,
Hot cross buns!
If you have no daughters, Give them to your sons
One ha' penny,
Two ha' penny,
Hot Cross Buns!
Whether you like yours warm and buttered or as they come, packed with fruit, chocolate chips or mocha flavoured, there is a hot cross bun available to suit every taste.  Here are a few fun facts to peruse whilst tucking into your favourite bun this Easter.
Contrary to popular belief, hot cross buns pre-date Christianity.  During the Pagan festival of Eastre, in which they celebrated the goddess Eostre, the Saxon's  prepared and ate buns marked with a cross.  An ox was sacrificed and the bread was marked twice with the horns.  Interestingly, the word for 'sacred ox,' 'boun', may be the origin of the term 'bun.'
Eostre, as goddess of the dawn, was associated with spring, fecundity and the joy of new life.  Her light was thought to be carried by hares.
In Pagan times, the cross on the bun is thought to have denoted the four quarters of the moon.
Due to their pagan heritage, the Christian church attempted to ban the buns.  However, when they proved too popular the church moved to Christianise them instead.
Hot cross buns have become a traditional symbol of the crucifixion.  The glazed cross is an obvious reminder of the crucifixion cross and just like the body of Jesus, the flour comes to life and transforms itself into bread.
To maintain the religious significance and symbology of hot cross buns with resurrection, Queen Elizabeth I, passed a law during her rein, which only permitted bakers to produce the buns at Easter and Christmas.
During this period, the buns were made from the same dough that was used to make the communion bread.
English folklore contains lots of superstitions regarding hot cross buns.  For example:

Buns baked and served on Good Friday will not become mouldy during the subsequent year.
A bun hung in the kitchen will protect the home from fires and ensure perfectly baked bread.
Buns were taken aboard ships to protect against shipwreck.
Sharing a hot cross bun and saying, "Half for you and half for me, between us to shall goodwill be,' will ensure friendship for the coming year.
All I know, is that they are delicious!  I like mine toasted with oodles  of butter melting into them. Mmmmm!
How do you like yours?
Wishing all our members a wonderful and safe, holiday season from the Mums Lounge team.