Poo-Pourri: How to Convince People That Your S#@t Doesn't Stink (Viral Video)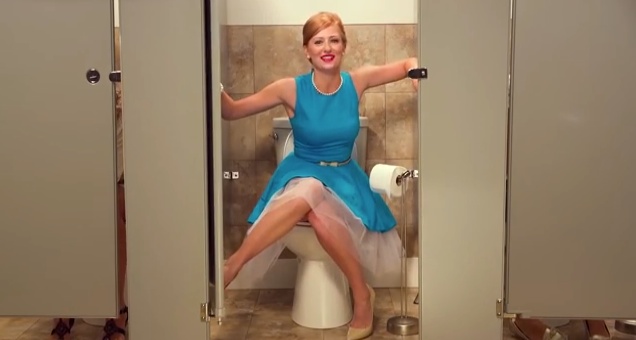 Poo-Pouri: How to Convince People That Your S#@t Doesn't Stink
Considering that 28 million people have now watched the delightfully offensive viral advert 'Girls Don't Poop,' I may be one of the very last to know about the intriguing product Poo Pouri.
For those who you, who, like me, may have been suffocating beneath a mountainous pile of your families dirty laundry, or tackling the latest head lice infestation when this one was doing the rounds online, let me share it here with you now, so that you too may whince in mock horror and clasp at your pearls at this beautifully executed toilet humour.
I know what you are wondering, and yes! This is a real product and there are no shortage of Amazon reviews and online blogs attesting to its efficacy!
How does it work?
Apparently, Poo-Pouri is a 'before you go' toilet spray that's secret blend of essential oils and other natural compounds create a film on the surface of the water in the toilet bowl. This barrier traps the odour in the toilet bowl, unlike aerosol air-fresheners, which as the advert points out aren't the most effective or healthiest option; "Trying to mask the stench giving you a nice blend of Carnations with just a touch of feces."
The companies tongue-in-cheek approach to a topic generally thought to embarrassing to discuss openly has without a doubt been instrumental in catapulting it to success, with the pooporri website showing that to date over 4 million bottles of Poo-Pourri have been sold.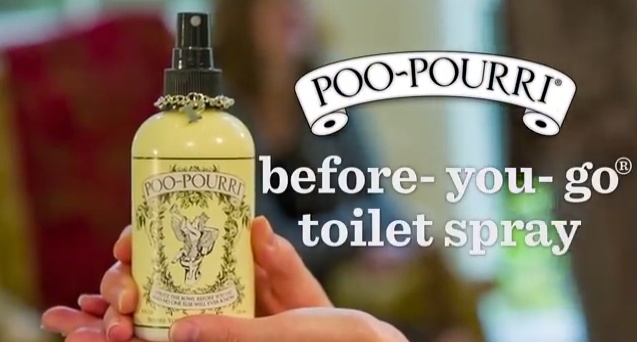 The range of Poo-Pouri scents are wide, and despite being packaged very inconspicuously (in a bottle that could easily fit inside your handbag or sit on your bathroom shelf) on closer inspection have not escaped the companies hilarious but crass 'pooetry.'
Scents of Poo~Pourri
Original – A fresh Clean Blend of Bergamot, Lemongrass and Grapefruit
Spritz the Bowl
Before-You-Go and No One Else Will Ever Know
Hush Flush – A fresh Floral Blend of Wildflowers in the Spring
Before You Go, Give the Bowl a Spray,
the Air Stays Fresh as a Spring Bouquet
Deja Poo – A Soft Sweet Blend of White Flowers and Citrus
You've Been Here Before
But Now With a Scent You Adore
Party Pooper – A Fresh Crisp Floral Blend of Mandarin, Tangerine, and Lily
When Glasses Clink,
Don't Ruin the Party With a Stink
Poo La La – An Elegant Blend of Peony, Rose and Citrus
Embarrassing Odors… Say Adieu
Sh*ttin Pretty – A Delightful Fresh Blend of Rose, Jasmine and Citrus
It Ain't Awesome Till Smells Like a Blossom
Call of the Wild – A Crisp Invigorating Blend of Ruby Red Grapefruit
Be Prepared When Nature Calls
No. 2 – A Sweet Refreshing Blend of Berries and Peaches,
Spray the Loo Before No. 2
and No One Will Ever Have a Clue
Citrus Mint – A Sweet Minty Blend of Vanilla, Mint and Citrus
Spritz the Bowl Before-You-Go
and No One Else Will Ever Know
Heavy Doody – Masculine, A Fresh Woodsy Blend of Neoli, Sandalwood and Sea Salt
The Right Tool for a Big Load
Poo-Tonium – Masculine, A Powerful Clean Woodsy Blend of Basil, Bay and Fir
When Conventional Arms Won't Hold the Fort,
Time to Go to the Weapon of Last Resort
Royal Flush – Masculine, A Fresh Masculine Blend of Eucalyptus and Spearmint
Great Washroom Scent for Distinguished Gents
Trap-A-Crap – A Deep Spicy and Fresh Blend of Blood Orange
Never Leave a Trail, an Odor Trapper for Any Crapper
Crap Shooter – A Fresh Sweet Grassy Blend of Cassis, Citrus Peel and Fir
Spray the Bowl First, Guns-A-Blazing.
The Smell is Contained, This Stuff is Amazing!
Lavender Vanilla – A Warm Fresh Blend of Lavender and Vanilla
Spritz the Bowl Before-You-Go and No One Else Will Ever Know!
Secret Santa – A Nostalgic Warm Blend of Vanilla and Cinnamon
Helping the Naughty Smell Nice
Merry Spritzmas – A Festive Blend of Vanilla and Peppermint
Tis the Season to Smell Jolly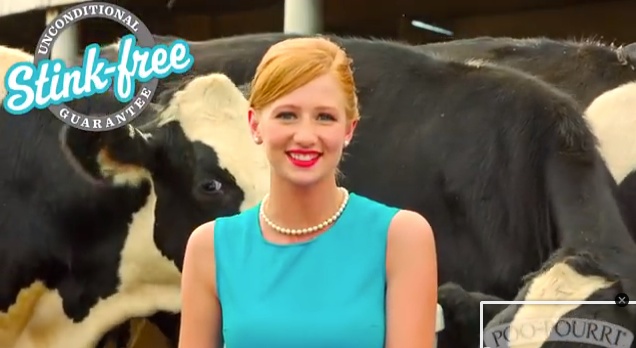 Tell me! Have you tried it?  Does it work?
It would make the PERFECT secret Santa gift to the office toilet-stinker-outter, wouldn't it?
I am very tempted to put in a massive order and send one to everyone I know for Christmas…2 if they visit my house regularly!