Brides, It's Time to Toss That Floral Bouquet Away – Pizza Bouquets Are Here!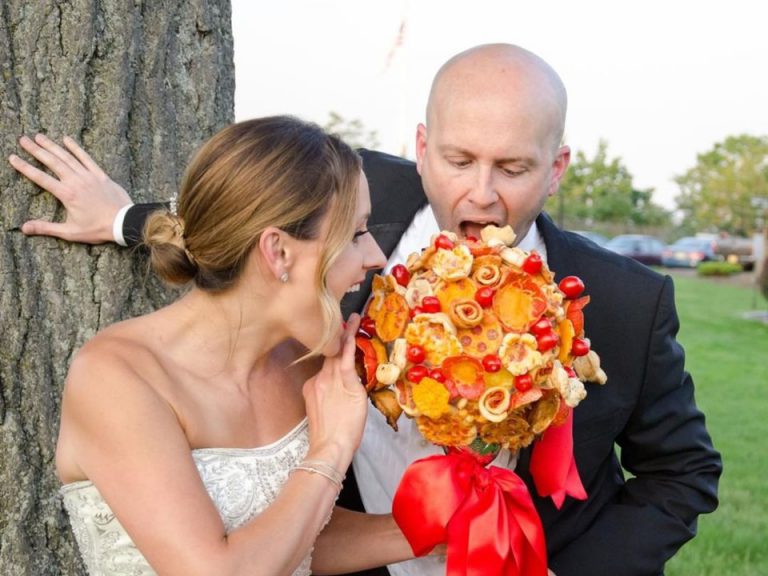 Brides, It's Time to Toss That Floral Bouquet Away – Pizza Bouquets Are Here!
Weddings are big on flowers. They serve as centrepieces, decorate archways and tables and, of course, feature in the bridal party's bouquets and boutonnieres.
But it doesn't have to be this way, as one American restaurant company has announced, for pizza bouquets are officially here!
How perfect! It can be exhausting being a bride on your wedding day, and what better way to boost your energy levels and counter all that champagne than quietly nibbling on your pizza bouquet during your vows?
The pizza chain Villa Italian Kitchen is currently running a giveaway for newlyweds-to-be, with the prize being a glorious, edible creation that will complete your dream wedding, because PIZZA!
"We are so excited to kick-off wedding season with the launch of the world's first Pizza Bouquet and Boutonniere," said Mimi Wunderlich, Villa Italian Kitchen's director of communications and digital marketing.
"These delicious floral accessories are perfect for pizza-loving couples looking to spice up their wedding with one-of-a-kind designs.
"We are looking forward to celebrating the marriages of some of our most loyal fans by gifting them a set of their own, just in time for their wedding."
The pizza bouquet and boutonniere are made from pizza dough, mozzarella, tomatoes and pepperoni, with some elements kept as mini pizzas while others are fashioned into what looks like pizza roses and daisies.
I mean, just look at it.
And the boutonnieres just look like little mini pizzas! Good luck keeping them out of the groomsmen's mouths until after the photos! Everybody say "CHEESE!"
Who wouldn't want that on their wedding day?
The bouquets are designed by Jessie Bearden, a food artist who collaborated with Villa Italian Kitchen last year to introduce to the world a bikini made of pizza.
Unfortunately, the pizza bouquet competition is only open to residents of the US, but that's not stopping us from pinning these pics to our ultimate wedding inspo boards just in case.
Source: Instagram/Villa Italian Kitchen