Dad Shares "Life-Changing" iPhone Hack That Stops Kids Messing With Your Phone While Watching Videos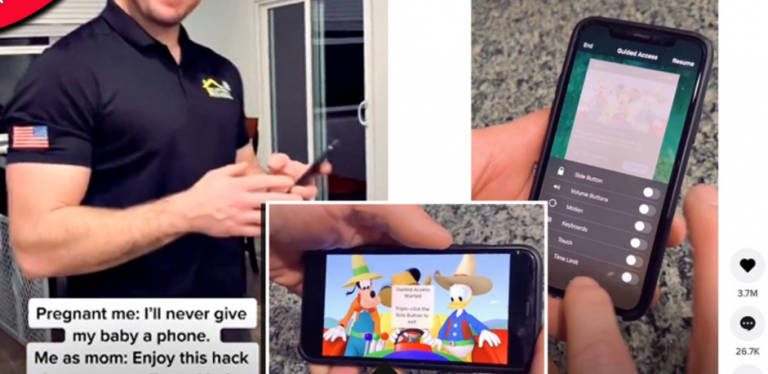 Dad Shares "Life-Changing" iPhone Hack That Stops Kids Messing With Your Phone While Watching Videos
A Dad has gone viral on TikTok after sharing a "life-changing" iPhone hack that prevents kids from pressing all sorts of buttons and links while watching a video on your phone.
Before we begin, a quick note for the howlers saying that kids shouldn't be on your phone in the first place and that screentime is bad. Got it. Thanks for the info, we had no idea. 👍
For the rest of us who understand that handing your phone over to your child to keep them entertained in shopping trolleys and restaurants and doctor's waiting rooms is a normal thing, this hack is a welcome one.
TikTok user @melissajean1223 explained that she was blown away when her partner shared a handy setting that allows you to lock your iPhone on a particular app so that your child can use it without accidentally making any purchases or sending random messages, and she shared the advice in a video that has been viewed a staggering 25 million times.
Melissa said: "So my babe just showed me the ultimate parenting hack."
In the video, Melissa's partner explains how it all works.
He told users to swipe down on their iPhone home screen to bring up the search function and type in 'Guided Access'.
This is a feature that keeps the iPhone in a single app and allows you to control which features are available – and can easily be turned on by triple-clicking the side button.
After turning on the function, you simply go to the app you want to keep the iPhone locked on.
Then, triple-click the sleep/wake button and a list of options will appear – disable all of these and press resume in the top right-hand corner, as seen in the video above.
"And now they can't mess with it. You can't touch it. Nothing," he said.
To turn the feature off again, simply either triple-click the home button or the sleep/wake button if you have Face ID.
Genius!!
Source: TikTok/@melissajean1223