This Genius Mum Drew A "Hug Button" on Her Son's Hand to Help Him Through His First Day of School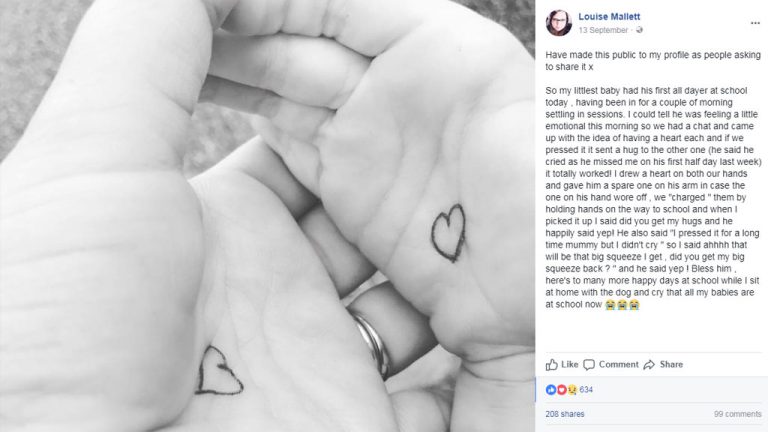 This Genius Mum Drew A "Hug Button" on Her Son's Hand to Help Him Through His First Day of School
Now here is something for all parents of 2018 Kindy kids to remember! A mum in the UK has brilliantly created a "hug button" to help her son get through his first day of school.
Mum of three Louise Mallett drew a tiny heart on her "littlest baby" Max's palm, and a matching one on hers.
She told her anxious son that by pressing them, they could "send hugs" to each other throughout the day and that they could charge up the "hug buttons" by holding hands on the way to school.
She writes:
"So my littlest baby had his first all-dayer at school today, having been in for a couple of morning settling in sessions.
I could tell he was feeling a little emotional this morning so we had a chat and came up with the idea of having a heart each and if we pressed it, it sent a hug to the other one (he said he cried as he missed me on his first half day last week). It totally worked!
I drew a heart on both our hands and gave him a spare one on his arm in case the one on his hand wore off, we "charged" them by holding hands on the way to school and when I picked him up I said "Did you get my hugs?" and he happily said "Yep!"
He also said "I pressed it for a long time mummy but I didn't cry " so I said "Ahhhh, that will be that big squeeze I got, did you get my big squeeze back?" and he said "Yep!"
Bless him, here's to many more happy days at school while I sit at home with the dog and cry that all my babies are at school now." What a seriously awesome idea!!
Louise's "hug button" post has gone viral as other parents saw how this could work with their own children in any situation, not just heading off to school for the first time.
"This is just the cutest thing ever", one commenter wrote, while another added: "So lovely! Will definitely be using this."
"Tears in my eyes reading this. So sweet. I'm totally stealing the idea!!"
Could a hug button help to ease your child's anxiety at a stressful moment in their lives?
Source: Facebook/Louise Mallett and Giphy