Is Gilmore Girls' Rory Pregnant? Fans are Convinced So!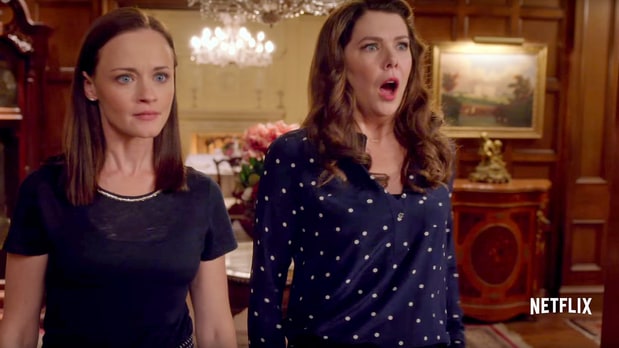 Is Gilmore Girls' Rory Pregnant? Fans are Convinced So!
Gilmore Girls fans are gearing up for the much anticipated premiere of Gilmore Girls: A Year in the Life which launches on November 25. And the eagle-eyed followers of the series believe they have unraveled the mystery hints in the trailers.
Based on clues given to fans, Us Weekly previously speculated that Lorelai (Lauren Graham) might be revealed to be preggers when the show returns in November. But now that the official trailer has graced the web, fans not only think Rory (Alexis Bledel) is the one who's pregnant, but they seem to be pretty confident of who the daddy is, too.
Clues included:
An Instagram of poptarts arranged around an apple – it's no secret that junk food queen Lorelai only craves fruit when she's pregnant – has the trait been passed down to Rory?
In the trailer, when trying to remember the happenings of their crazy night together, Rory and Lorelai try to recall what they watched. Lorelai suggests, "Was it Baby Monitor: Sound of Fear?"
Another Instagram share of a tube of lipstick with a blurry image of a stroller visible in the reflection of a compact mirror.
Luke (Scott Patterson) gives Rory a hard time about wanting to eat tater tots and donuts on top of tacos. Why is he so concerned with what Rory's eating?
At dinner, Emily (Kelly Bishop) says point blank, "What bathroom will you use to throw up in?" It's unclear who Emily is directing that question to, but it is amid a conversation about Rory.
Some random Instagram user posted a photo of a prop at Warner Brothers Studios labeled: "Gilmore Girls Set Name: Wedding." Fans can't keep their cool, and are thinking that Logan and Rory are to have a baby and live happily ever after.
Less than a month left, everyone! Then, the rumours (and probably a baby) will be put to bed.