Do These 17 Small Things Annoy You When You See Them in Movies and TV Shows?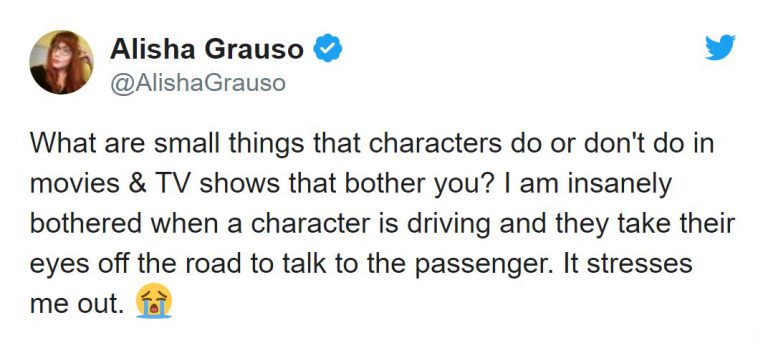 Do These 17 Small Things Annoy You When You See Them in Movies and TV Shows?
Many movies and tv shows claim to be as realistic as possible. New developments in CGI technology and whatnot can make incredibly realistic scenery and costumes look absolutely incredible nowadays.
Having said that though, filmmakers and scriptwriters still sometimes make simple errors when creating their masterpieces that tend to really irritate some people when they have a better understanding of how the world really works.
Things like people hanging up the phone without saying goodbye, for example. Or having a full conversation in a shop without ever making eye contact or speaking to the person serving them.
Film Critic Alisha Grauso started a viral thread on Twitter asking people to list the things that annoy them in the movies and tv shows that they watch, prompting almost 8,000 replies, some from the actors themselves.
What are small things that characters do or don't do in movies & TV shows that bother you? I am insanely bothered when a character is driving and they take their eyes off the road to talk to the passenger. It stresses me out. 😭

— Alisha Grauso (@AlishaGrauso) May 4, 2020
Here are some of the best responses — see if they bug you too!
Extras on the go with clearly empty coffee cups swinging their arms around like they're not holding HOT COFFEE.

— Lin-Manuel Miranda (@Lin_Manuel) May 5, 2020
When women do not have their hair tied back in action movies. When Harley hands a hairband to Canary in Birds of Prey, I orgasmed.

— Hanna Ines Flint (@HannaFlint) May 4, 2020
☎️ Him: Would you like to go to dinner with me?

☎️ Her: I'd love to.

☎️ Him: Ok! 8:00?

☎️ Her: Great. See you at 8. 🥰

*HANGS UP* ?!??!!??!

WHERE!? WHAT DAY!? OH MY GOD LITERALLY NNNNNNO DETAILS?! pic.twitter.com/jZJUcjmKwD

— Parisa Fitz-Henley (@ParisaFH) May 5, 2020
This is usually in spy movies but when characters get a whole load of sensitive information and they just… know it all. I need it repeated twice, thrice, and written down.

— Eric Francisco (@EricFrancisco24) May 4, 2020
When a blood sacrifice is needed and they slice open a massive gash in their palm. Have fun not being able to pick anything up with that hand for weeks! For fucks sake, use the back of the hand or another area that wouldnt be so disruptive to every day tasks!

— Anthony (@Rebels_57) May 5, 2020
Characters not acknowledging their pet dog/cat when they come home beyond just coldly feeding them out of a can, when we all know they would say, "HELLO THERE, HELLO THERE, DON'T YOU HAVE LOVELY FEET!"

— Liz Buckley (@liz_buckley) May 6, 2020
HANGING UP THE PHONE WITHOUT SAYING BYE

— Andi hates cops (yep, all of them!) 🏳️‍🌈🏴‍☠️ (@hwatanealon) May 5, 2020
I hate when characters just show up unannounced at other characters' houses just to have a quick chat with them. Smallville was the king of this – no one ever used the phone on that show! haha

— Danny Baram (@DannyBaram) May 4, 2020
When nothing smells. Like in the Avengers movies, Hulk should reek, and every person should make a face every time he walks by

— Orville's Wedding (@the_year_is_one) May 5, 2020
Long foot chases where no one gets tired, gets a stitch in their side, turns an ankle, has asthma, or just has to stop because they're out of shape.

— (((Richard Regen))) (@realrichregen) May 4, 2020
I'm sure it's already been addressed, but no matter how far outside of reality a film might be, I'm always bothered when someone is thrown across a room, smashes into a wall or furniture, and gets up from it. I rolled off the sofa the other day and thought I was going to die.

— Ted Geoghegan (@tedgeoghegan) May 5, 2020
The way no-one ever finishes their drink in a bar scene.

— Joanne Harris (@Joannechocolat) May 6, 2020
When women don't have hairy pits in period pieces. 😤

— Natasha Negovanlis (@natvanlis) May 6, 2020
It bugs the hell out of me that no matter what city they are in London, NY, Tokyo, San Francisco, no matter where they are driving to they ALWAYS find an open parking spot right in front of where they are going.

— 🌼 Autumn Witch ⚢ (@Dragon_Age_Fans) May 5, 2020
When a newborn baby is handed directly to the mother after birth, and it's a) spotlessly clean and b) about eighteen months old.

— Gareth Roberts (@kentrosaurian) May 6, 2020
The complete lack of post-coital cleanup. You've been laying there for a good seven minutes after finishing, I know that spot on the bed isn't dry, girl. No trip to the bathroom? I ASSUME ALL OF THE WOMEN HAVE UTIs UNTIL SOMEONE GETS THIS RIGHT

— Anya Stanley (@BookishPlinko) May 4, 2020
When someone makes a huge breakfast and all of the characters just grab one piece of toast on the way out the door

— Danielle Radford (@danielleradford) May 4, 2020
What are your thoughts? Do you have any of your own to add? Let us know in the comments!