Husband Wants Wife, Who Gave Birth 7 Months Ago, to Stop Dressing "Like a Mum"
Husband Wants Wife, Who Gave Birth 7 Months Ago, to Stop Dressing "Like a Mum"
In what can only be described as a moment of poor judgement, a man has sought advice from the internet after begging his wife to not "dress so frumpy and like a mum all the time". If it matters at all, his wife gave birth to their daughter just 7 months ago.
I know, I know.
Rest assured, ladies, for if this new dad had no clue prior to asking the question if he were the asshole for this insensitive request, he surely does now.
Taking to the popular Reddit sub 'Am I The Asshole', our protagonist stirred up a hornets nest with his frustrated, yet-oblivious, post: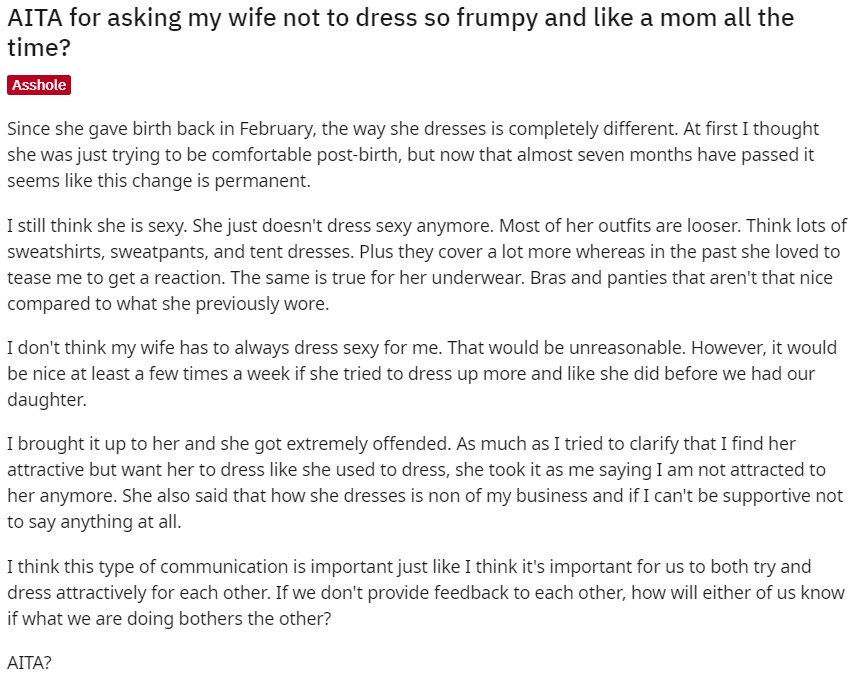 We are happy to report that out of hundreds of comments, not one person replied that he was Not The Asshole.
What the hundreds of comments did say, however, is exactly what each and every one of us were thinking.
• "You're The Asshole. She had a freaking baby! What's the point of dressing sexy when your baby is spitting up and having blow outs? Her waist line still may be still sensitive and her boobs probably still hurt. You didn't have the baby and your body didn't change. Do you know uncomfortable it is to dress sexy when you are taking care of a baby????"
• "YTA. You do realise she had a baby recently and it can take awhile before she feels herself again? It took me a year after both of my kids were born. My priority was not on me."
• "YTA. This isn't an issue but you sure as shit are determined to make it one. Stop being dramatic and let your wife be comfortable in her own damn home."
The foolish father returned to the comments again and again to try and justify his stance before the advice finally started to sink in.
"I just thought that by seven months things would be different," he said. "I'm not asking for her to dress like she used to all the time – only once or twice a week."
"She has to get dressed either way. I'm only asking for something other than tent dresses or sweatpants and oversized shirts after months of that being it."
To give him some credit, he does say that he pulls his weight when it comes to housework, and that he always tries to wear "nice outfits". He also says that he adores his wife and daughter, and that he tells his wife that she is beautiful all the time.
Becoming parents is a difficult and confusing journey for everyone. But we don't have to dress up for it, buddy.
Source: Pixabay and Reddit/Am I The Asshole?