New Research Suggests Leggings Are In Fact Pants!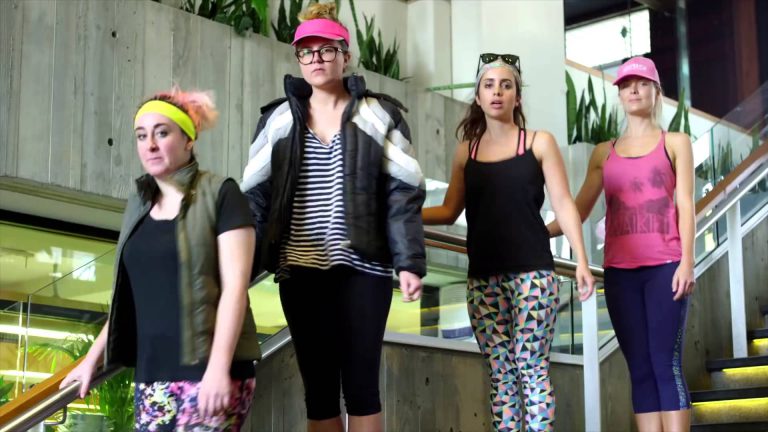 New Research Suggests Leggings Are In Fact Pants!
Earlier this week, the internet went into meltdown over news two teenage girls were banned from boarding a United Airlines flight for wearing leggings. The youngsters were flying on discounted or free tickets where the dress code for such passengers states they must be "well-groomed, neat, clean and in good taste".
While in the past I too may have agreed with the saying "leggings are not pants" I may have to eat my words. You see- it's 2017 and athleisure wear is here to stay. So much so that some are predicting the legging will slowly replace the jean as the most popular clothing item in a woman's wardrobe!
Leggings are no longer just for gym bunnies and yogis. Around the world, the sporty inspired attire industry is worth about $360 billion. In Australia alone sales are expected to increase by more than 20 per cent in the years leading up to 2020.
A recent study by Victoria University says a desire to exercise "anywhere and anytime" is driving growth, as more women try to fit informal exercise into busy schedules.
Julie Stevanja, founder of Stylerunner, an online store for women's sportswear agrees that it is one of Australia's fastest growing businesses, and believes the idea that clothes help determine a person's behaviour is a driving force behind her success.
"People want to make healthier lifestyle choices. Sometimes the first step is actually associating with it, wearing something that makes you feel healthier," she said. "I think if you are in your activewear, you're probably more likely to buy a green juice than a milkshake."
In fact, there's a saying that goes "Fake it till you make it" and when it comes to active wear it's 100% true! If you want to feel fitter just try wearing your leggings and a t-shirt every day. You will slowly find yourself being more active and making healthier food choices. The illusion of you 'looking and feeling fitter' is directly linked to what clothes you're wearing. And if you feel healthier then chances are you will be more productive and have a positive mind set! Try it and see.
Wearing leggings as pants is a massive time saver too. There's no need for ironing or dry cleaning and mornings are hassle free as pretty much anything goes with a pair of leggings! Just ask Kimye. Her wardrobe is basically made up of skin tight leggings which she ALWAYS wears as pants.
The Washington Post said that by wearing leggings in places other than the gym: "We are saying to the people around us that our own comfort is our first priority. We are expressing a new kind of modern vanity where dressing down, rather than dressing up, is the power move."
"What we wear sends a message to the world. An Hermès handbag makes a statement about wealth and luxury. A pair of four-inch Louboutin heels makes a statement about sex and power. Yoga pants make a statement about comfort and modernity. When we board a flight or run to the grocery store swaddled in cotton-lycra, we are saying to the people around us that our own comfort is our first priority."
Yes exactly! And everyone knows that when you feel comfortable you perform better! Why do you think Steve Jobs went around barefoot most of the time? Because he wasn't distracted by ill fitting suits or toe pinching shoes. His brain was free to focus on more important things- like changing the world!
Even Victoria Beckman, who swore she'd never be seen in flats, has converted and is now a trainer lover who is often seen sporing her white Stan Smiths!
So yes- while I have said in the past leggings are NOT pants – I stand corrected today. As I sit here in my black Nike leggings typing away I can honestly say active wear is a look that is not going away any time soon. And I must agree that there's a lot to be said about being comfortable – it does change the way you work. Think of that feeling you have as soon as you come home from work and kick off your shoes, put on your trackies and throw your hair up in a bun. It's that feeling but slightly more put together.
So while you may not initially be doing any exercise while you're dressed in your leggings you will find yourself slowly becoming more active and doing more than just 'having coffee in your active wear!'
Photos: Youtube and Google images