Why The Internet Flipped Out Over this Picture of a Dad and Daughter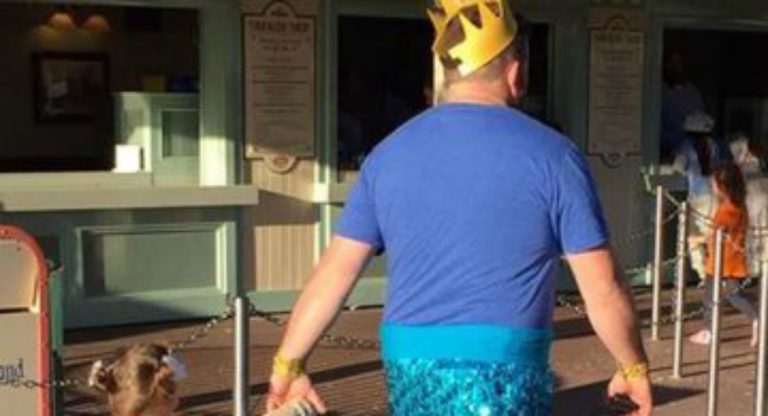 We all know dads are in important figure in a child's life. As parents, we will often do ridiculous things to make our children happy (not in all situations of course!) so we can be a part of their world.
This photo of a dad dressed up as a mermaid, while walking his little girl at Disneyland, has gone viral and the internet has embraced the image positively. It speaks volumes of the dad in the image, who doesn't care how he looks, in order to make his daughter happy.
The dad is dressed as King Triton from the movie The Little Mermaid, and his daughter, dressed as Ariel, were seen walking together at Disneyland.
The image was shared on Reddit and has had over 1.3 million views since being uploaded. It's also raised discussion amongst dads in the online, who admit they will do anything to be a part of their daughter's world – even getting in on the imaginative play – in public.
Comments came in fast with, positive encouragement for the dad in the picture.
"Begin slow clap. That's a cool dad right there!"
While another wrote, "Dads think all day and night about what will make their daughters happy, and then they try their best to make it happen, some how, some way, and they're devastated when they can't. This guy got those outfits and came up with the idea of wearing it for one reason, and one reason only – he wanted to see his little girl's eyes light up…. Nothing else matters to a Dad, ever. Don't kid yourself about that. You are the only thing he thinks about day in and day out."
The image certainly reminds us that kids enjoy the simple play things in life and all they want is an attentive parent taking part in their creative world.
If Dads are looking for some Halloween costume inspiration, this photo could be it.