'Miserable Men' Looking Bored at the Shops Is Our New Favourite Instagram Account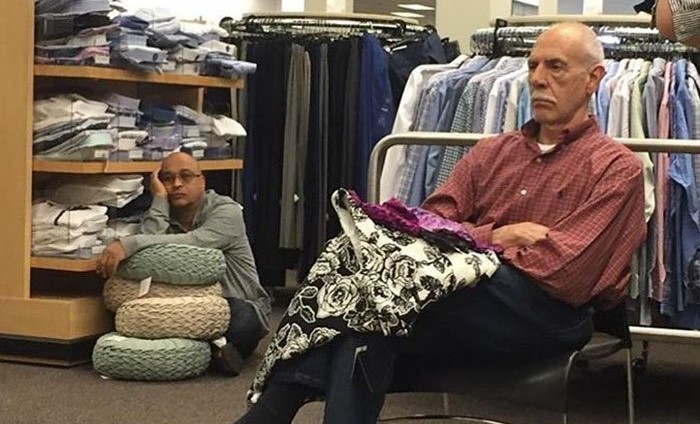 'Miserable Men' Looking Bored at the Shops Is Our New Favourite Instagram Account
As much as we might enjoy snapping up that amazing bargain or shopping for the perfect outfit, the men in our lives find it insanely boring. We understand that the time it takes to find exactly what we need is totally worth the end result, but our guys don't see it that way. But they love us so they come along and stand around waiting for us to finish so they can go home.
We often see these bored men, sitting on those benches outside boutiques, clutching shopping bags and waiting for their personal hell to be over. They even created husband storage pods in China to keep them occupied!
Our new favourite Instagram account is simply called Miserable Men™️, and it is chock-a-block full of these wonderfully supportive, yet totally bored men waiting for their wives and girlfriends to finish shopping. With over 330k followers and counting, we think this will become your new fave account too!
Here are twenty of their very best snaps! Which one is your favourite?
1. A circle of boredom

2. Gettin' a little too comfy at Big Dub

3. Just killing time on the lounge display

4. Having a little snooze

5. Like father, like son – completely bored

6. We feel ya pain, buddy

7. How long has his partner been in the store?

8. 'Hot stuff' wore himself out in the furniture shop

9. Amusing himself with the children's play equipment at Ikea

10. Waiting patiently with his wife's handbag

11. A two for one, deal! That dress suits you, sir.

12. Men everywhere can relate to this guy

13. Even the little ones can't escape the boredom of waiting

14. You can find anything in Aldi, even a seat

15. At least he took his shoes off first

16. Poor thing looks knackered after all that shopping!

17. Anyone want to take him home?

18. All these guys are bored out of their minds

19. Doesn't matter whether you are young or old

20. Are we done yet?

Rarely do we spot such a universally relatable thing as bored men at the shopping centre. Although we could argue that you'd find bored women standing around at Supercheap Auto and BCF so it's not just a man-thing, is it?
Source: Instagram/Miserable Men™️