Why This Mum Nervously Confronted Some Cruel Kids at Target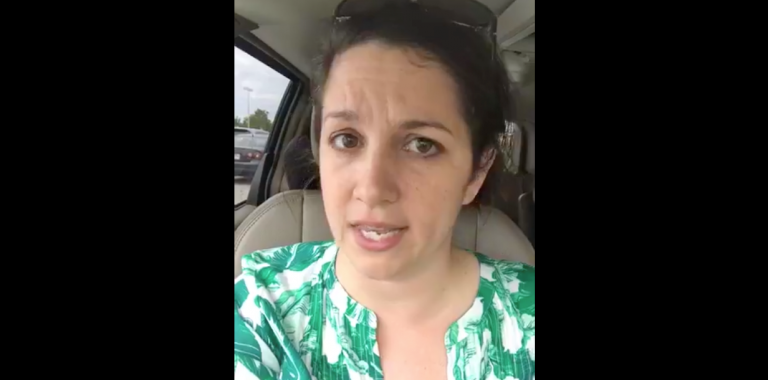 Why This Mum Nervously Confronted Some Cruel Kids at Target
Mary Katherine Backstrom was standing in the checkout line at Target when she noticed some children in the queue before her acting inappropriately towards the checkout operator.
She explained what happened in a video that she posted on her blog's Facebook page, Mom Babble.
Mary Katherine watched as a girl and a boy, about 11 or 12 years old, began laughing and giggling about the cashier, a gentleman who had clearly suffered a "very devastating accident and cranial reconstructive surgery."
The kids had taken out their phones are were trying to covertly take pictures of the checkout operator using Snapchat filters in order to text the images to their friends.
This is where Mary Katherine decided to do something that many of us might not feel comfortable doing — she confronted the children and told them that they were being "very cruel" to that man.
"I have a hard time sometimes accepting that I'm an adult and that I can actually be an adult in situations like this. You feel like these kids are intimidating to you and I'm just not very confident sometimes in my adulthood," Backstrom said in the Facebook video.
But despite feeling this way, she realised that she needed to take action.
"In that moment I realised, 'Yes, yes, I'm an adult,'" she said. "'I can do this. I can take control of the situation and teach them a lesson.'"
Mary Katherine set her trolley aside, followed the children outside and confronted them about their behaviour. Then, she did something that even surprised herself.
She asked the kids how they were getting home, and they said their mum was picking them up. She decided to wait with them so she could let her know what happened.
To her relief, the mum reacted with grace and appreciation that another mum had taken the time to tell her what her kids were doing.
Mary Katherine was so pleased she did because it turned something that "started out just awful" into a teaching moment that united the two mums with a shared message that behaving inappropriately in public is not acceptable.
She said that she would want someone to tell her if her own children were behaving like 'buttholes" and to call them out on it and that it really does take a village to raise a child. She praised the other woman for being a good mum who was grateful for the opportunity to "straighten her kid out".
"I just wanted to say to the lady whose kid just acted like a complete butthole in Target that you're a really good mum. Kids can be buttholes some time. If my kids are ever in Target being buttholes or bullies or making fun of people, I hope you do the same thing. It's hard to hear criticisms from other parents or hear your kids are acting contrary to how you know you've raised them, but that's part of them growing up. We all need to be keeping an eye on each other and each other's kids."
I know I lack confidence in managing other people's children when they act up in my care. Mary Katherine's video really resonated with me, and I will try to be more adult in my adulting in future. An adultier adult, if you will.
Of course, it works both ways — if we are going to gently correct other children's behaviour we can't get upset when another mum calls our own children out for misbehaving. Mums have to stick together sometimes.
Would you have a problem with another mum telling you that your child was misbehaving while you weren't there? How do you feel about this mum's message?
Source: Facebook/Mom Babble by Mary Katherine Backstrom