Mum Pens Incredible Thank You Letter to the 'Unforgettable' Nurse Whose Face She Never Really Saw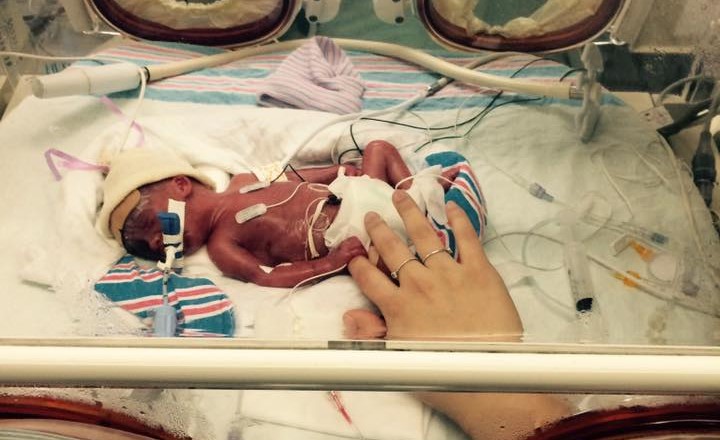 Mum Pens Incredible Thank You Letter to the 'Unforgettable' Nurse Whose Face She Never Really Saw
A mum has opened up about one of the most terrifying moments of her life, and has thanked the unforgettable but also mostly-anonymous nurse that helped her through it.
Lauren Helms was facing the daunting challenge of delivering her micro-preemie twins via emergency caesarian section in the middle of the night when her face crumpled into tears and she asked a nurse for reassurance.
It is best if we let Lauren explain herself, as her emotion-filled words are truly touching.
Nurses are amazing.
On January 29th, 2016, I was wheeled into an OR at Yale-New Haven hospital for an emergency c-section at 4:30am. I was 26 weeks pregnant with twins, fully dilated, having contractions about a minute apart, and my son's heart rate was dropping. The time to save my children's lives was now and there was no time to be wasted. I coped with the situation the way I always do – I cracked a joke to hide my terror.
"Good thing I shaved my legs last night"
Everyone chuckled. But on the inside, I was panic stricken and anxiety started to set in once I was positioned for my spinal. I began to cry, and I remember wanting my Mom so she could tell me we would all be ok. I looked at the nurse closest to me.
"Please tell me I can do this" I choked out behind stifled cries.
Her eyes softened behind her mask and she took my face in her hands.
"You can do this."
She said it with confidence, and love, and all the support I needed in the worst moment of my life. Then she silently brought my knees up, laid my head on her chest and wrapped her arms around me. She held me while I cried softly through my spinal.
She stayed with me until my husband was allowed to come back in. I don't even know what she looks like, but I will never, ever forget that nurse.
Lauren's twins, Robert and Evelyn, are now two and a half, but clearly, their mum has not forgotten the love and support of a stranger during the most terrifying moment of her life.
Nurses are awesome.
Source: Facebook/The Crazy Haired Momma