This Mum Posed in Her Very 90's Bridesmaid Dress to Celebrate Her Friend's Anniversary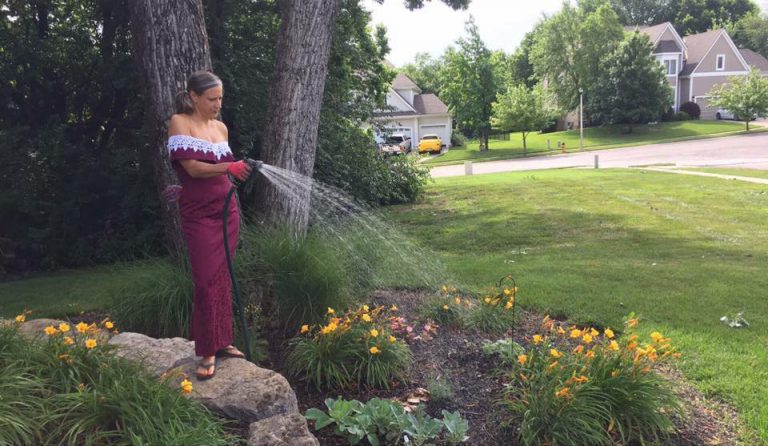 This Mum Posed in Her Very 90's Bridesmaid Dress to Celebrate Her Friend's Anniversary
Lots of us have a stash of old bridesmaid or school formal dresses in the back of our cupboards or stuffed in a garbage bag in our parent's garages. We totally thought we'd wear them again, right? To a formal dinner or your sister-in-law's wedding?
But we never do. And so they become hideously outdated, we become slightly curvier and we never put them on again. Happens all the time.
Not on this occasion though!
Children's author Tammi Sauer shared some pictures of her 1995 wedding on her Facebook page to celebrate her wedding anniversary. She made fun of the very 90's bridesmaid dresses, apologising to her attendants for her fashion choice. "My apologies for those dresses, ladies," she wrote.
Seriously, those dresses were something else entirely.
But then one of her bridesmaids, Heidi, responded in the most awesome way ever. She decided to show her friend that she is getting use out of her bridesmaid's dress!
"What do you mean sorry about the dresses? I wear mine all the time."
Watering the garden…

Chilling on the lounge…

Grabbing some groceries…

Doing the laundry…

"The way Tammi was so apologetic made me think about how almost every person whose wedding I'd been in hoped I'd be able to wear their dress again," Mann told BuzzFeed News. "I don't blame them…I did the same thing to my bridesmaids. I was certain I was getting them dresses that they would be able to wear again. I wasn't."
Sauer said she totally loved the pictures as well.
"I laughed. I cried. I'm pretty sure it's the best thing I've ever seen in my life," she said.
Heidi's response absolutely wins the internet for today!
Have you ever worn your bridesmaid's dress again?
Source: Facebook/Tammi Kippes Sauer