Mum Recreates Her Daughter's Sexy Bikini Holiday Snaps with Her Mates and They Are Hilarious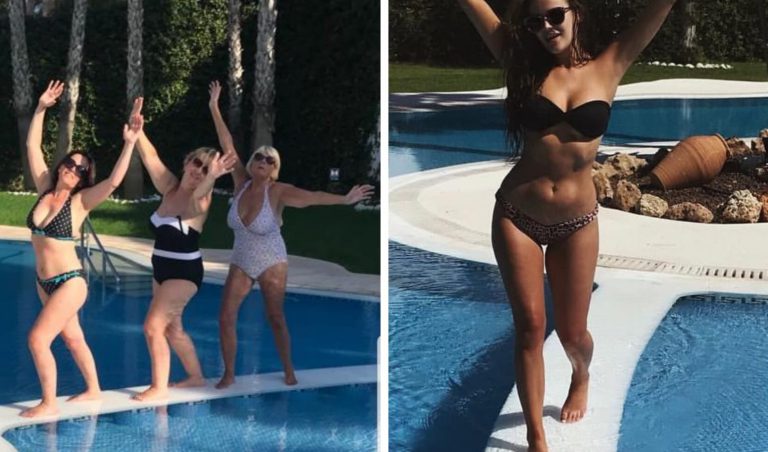 Mum Recreates Her Daughter's Sexy Bikini Holiday Snaps with Her Mates and They Are Hilarious
After a lovely holiday with friends in Spain last year, Alexa Stark shared several photos from her trip on Instagram. They were the usual sorts of photos that young and beautiful people share – beachy, bikini-themed selfies beside palm trees and pools. You know the type.
But little did she know that her mum had remembered them all and had come up with a hilariously wicked plan.
Recently, Alexa's mum, who wishes to remain anonymous, took a holiday of her own to the same location as her daughter had the year before. And, along with her own friends, decided to have herself a little photoshoot.
Alexa, who is a student in the UK, was surprised and amused to discover that her mum had hilariously recreated her pictures – in the exact same locations.
She shared the side-by-side comparisons of the photos on Twitter for all to see, captioning the post: "My mum and her mates have completely rinsed my holiday pics."
She certainly did!
Naturally, loads of people were entertained by the images and responded to Alexa's tweet with thousands of likes, retweets and comments.
"Screaming!" one person wrote.
Another said: "This is the best thing I've seen."
Alexa described what happened in further detail:
"I was on holiday in my mum's friend's villa, then her and her friends went separately so took the photos in the exact same spots but about a year apart!
"I think it's hilarious, she's the funniest person I know," she continued. "I'm not even mad I'm just impressed!"
She added: "She's obviously stalked my Instagram, found the pictures and then completely had my life with them."
Alexa's mum is serving us serious mum goals here, and it looks like she had the best time on her mates holiday! Good on her!
My mum and her mates have completely rinsed my holiday pics pic.twitter.com/MuK8YNNn26

— Alexa (@alexastarkk) September 30, 2019
Source: Twitter/Alexa