Mum Shares Lifesaving Parenting Hack Using Just a Simple Texted Emoji ?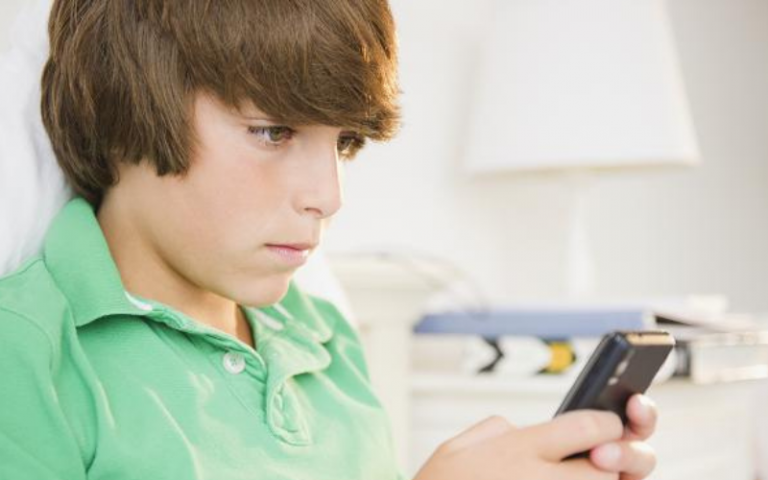 Mum Shares Lifesaving Parenting Hack Using Just a Simple Texted Emoji ?
Kids can get themselves into all sorts of sticky situations where they might need your help but can't actually put it into so many words. Maybe their friends are watching or listening. Maybe it would be too difficult to explain via text. Maybe they know something is wrong but can't put it into words. Or frighteningly, maybe they are short of time and need you to contact them immediately.
Whatever the situation, one mum has implemented a simple way for her child to get her attention to get them out of their predicament as soon as she possibly can. All the child has to do is send through a single, random unexplained emoji.
All was explained in her Reddit post on the Parenting sub.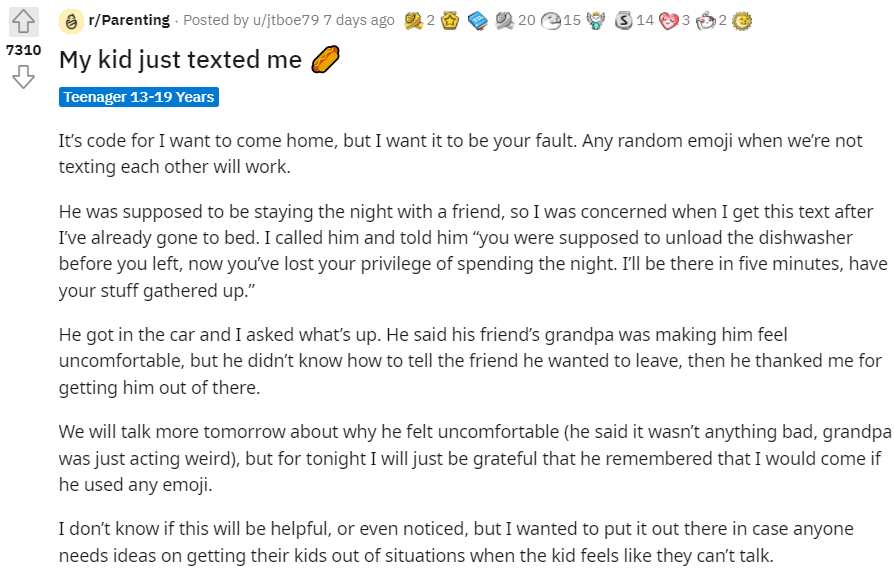 Now, this is something that could definitely work in my house! I often tell my kids to use me as an excuse if they don't want to go out with their friends.
"Tell them I said no and that I'm being mean", I say.
I don't care if their friends think I'm the biggest bitch on the planet. If it helps get my kid out of something they aren't comfortable with and feel they can't outright say no to, have at it!
This emoji trick has the same energy and I, for one, applaud it.
Other parents agreed, upvoting and awarding the post thousands of times. Some even shared their own code words.
"Our kids always knew they could use us as an excuse," wrote one dad.
"Back when my son was 13 I got a text from him while he was at a teammates house asking to be picked up. When I got to the house my son and his best friend hopped into the car. I didn't ask any questions but eventually they started spilling the beans. Turns out one of the kids brought over a vape and they were all trying it. My son said he didn't want to so he told the kids that his dad was being a jerk and making him come home because he didn't finish his chores. His best friend picked up on it and said something like, "Is that about the big mess we made yesterday? I'll help you clean it." I was glad that the friend also saw our house as a safe retreat and knew he was welcome to come back with us.
"After that, we came up with the code "Is grandpa okay?" for our kids if they need to be picked up from somewhere. They call their grandpa Pop-Pop so there is no confusion on our end and asking about the health of a grandparent is normal enough that it wouldn't be suspicious if another kid saw the text."
Another added: "I didn't get a cell phone until high school, but the code I used to use with my parents was to call them up and ask, "Did you feed the fish?" We never had a fish, and my parents were always great at coming up with reasons why I needed to be picked up right away. It's so important to have a system like that with your kids."
Do you have a codeword or emoji to use with your children? If you don't, maybe it's time that you think of one together.
Source: Reddit/Parenting