Online Store Under Fire for Sending Atkins Diet Bars with Plus-Sized Clothing Orders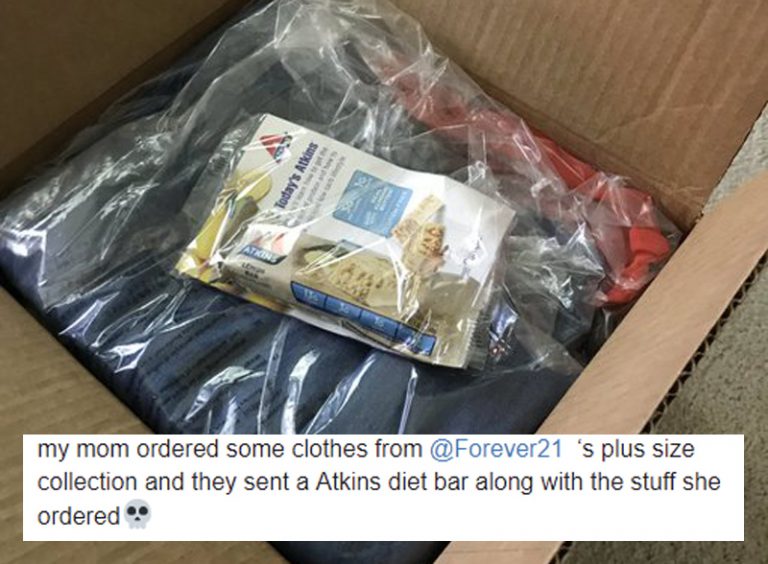 Online Store Under Fire for Sending Atkins Diet Bars with Plus-Sized Clothing Orders
In what must be one of the most insensitive and tone-deaf promotional offers of all time, clothing store Forever 21 has been sending Atkins diet bars as a free gift to people who purchased clothing from their online store.
The US fashion retailer has been accused of fat-shaming, especially as the bar was included in many orders of plus-size clothing.
Jesse Marisaelao posted on Twitter that her mother had bought several items of clothing, which arrived with a lemon Atkins bar on top, complete with calorie count and fat content.
"Sending people diet bars, shakes, teas, etc with clothes they bought can send a negative message about body image," Marisaelao added.
The tweet has since racked up over 10,000 likes and 2,000 shares, with many outraged at Forever 21.
my mom ordered some clothes from @Forever21 's plus size collection and they sent a Atkins diet bar along with the stuff she ordered💀 pic.twitter.com/Lxi6XnuOB1

— jesse (@jessemarisaelao) July 19, 2019
bought a swimsuit online from forever 21 and they sent me an atkins bar along with it lmaoo thank u for reminding me that i don't have a beach ready bod

— Cailee (@caileeargudo) July 23, 2019
One customer who recently lost a significant amount of weight was shocked at the freebie.
"I went from a size 24 to 18, still a plus size girl," she explained on Twitter.
"What are you trying to tell me, Forever 21, I'm FAT, LOSE WEIGHT? Do you give these to NON-PLUS SIZE WOMEN as well?"
I went from a size 24 to 18, still a plus size girl, so I ordered jeans from @Forever21 Opened the package, when I looked inside I see this Atkins bar. What are you trying to Tell me Forever 21, I'm FAT, LOSE WEIGHT? do you give these to NON-PLUS SIZE WOMEN as well? pic.twitter.com/ds8kUTs7T7

— MissGG🏳️‍🌈 (@MissGirlGames) July 19, 2019
It turns out that they did, in fact, send these diet bars to non-plus-sized women as well.
Body positive blogger Mermaid Queen Jude shared a post on Instagram calling Forever 21 "fatphobic".
"As someone recovering from an eating disorder, this would've set me back so far," she added.
In a statement obtained by PEOPLE, Forever 21 said they have removed the samples from future shipments, apologising to customers for any offence they may have caused with their dangerous and inappropriate message, however unintentional they claim it to be.
"From time to time, Forever 21 surprises our customers with free test products from third parties in their e-commerce orders," the company said. "The freebie items in question were included in all online orders, across all sizes and categories, for a limited time and have since been removed."
"This was an oversight on our part and we sincerely apologise for any offence this may have caused to our customers, as this was not our intention in any way," Forever 21 added.
Image Source: Twitter