Pole Dancing for Kids: Yay or Nay?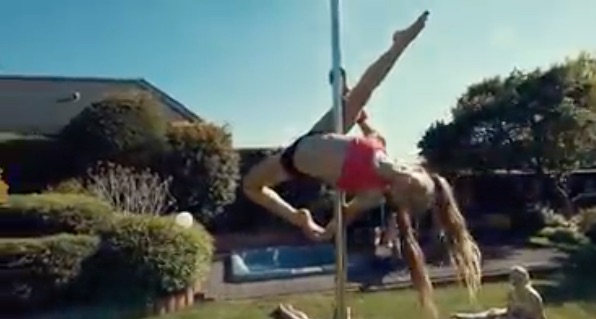 Pole Dancing for Kids: Yay or Nay?
This short video advertising the portable Gympole shows kids playing with it in the backyard. It's been viewed nearly two million times with opinions divided on whether this is creepy and feeds on predator's fantasies or it's just kids exercising, having fun and is no different to gymnastics.
Here's some of what people are saying:
"Pole dancing originated in strip clubs and men – rightly – associate pole dancing with sexual arousal. These girls are innocently having fun and have no idea that men may be getting off on this."
"You just can't erase decades of strippers pole dancing and make it non sexual all of a sudden for the kiddies"
"Future stripper, which trailer park is this"
"It might be OK if they weren't in some skimpy outfits, who dresses their kids in crop tops like that".
But it seems there are more positive comments than negative like these ones:
"It makes me happy to see this commercial done with children. It helps to take away the negative associations that society has (with pole dancing), while showing it is a fun and good sport.
"It's actually really good exercise. There's nothing sexual about it unless someone makes it sexual."
"If you can't tell the difference between a child playing in the backyard and a stripper dancing in a dimly lit club, then YOU have the issue. Meanwhile, both these kids and strippers have some amazing dance skills and strength".
Pretty sure I've seen skimpier outfits than those at the Olympics on gymnasts and who cares if a pole is vertical or horizontal if they're having fun, building core strength and exercising. Like-wise goes for ballet dancing – there's legs over heads, in splits in similiar outfits and no one would dare to say the things they are saying about this. I think given the influx of pole dancing classes in gyms for fun and fitness, it's starting to lose its' stigma as being something only used for strippers. Men go to strip clubs to see naked women, pure and simple. The pole is simply a tool. And, if this is in the privacy of your backyard – who's going to see it except for the family?
What do you think? Would you let your child do this?
Would you allow your child to play on this pole?