Police Share Chilling Video About The Dangers of Speaking To Strangers Online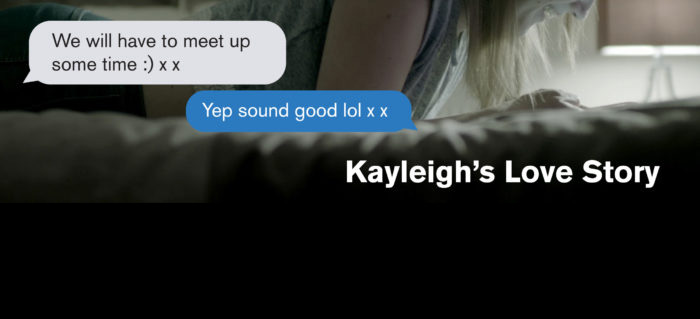 Police Share Chilling Video About The Dangers of Speaking To Strangers Online
A chilling film about a Leicestershire schoolgirl who was groomed online before being raped and murdered has been published on the internet, with the hopes of raising awareness among teens and their families.
Kayleigh Haywood began speaking to Luke Harlow, a man she had never met, on 31 October 2015. He had found her through the teen's social media account.
Over the course of the next 13 days they exchanged exactly 2643 messages, an average of over 200 each day. Harlow told the 15-year-old everything that many teenage girls want to hear.
He bombarded her with texts, telling her she was beautiful, how much he cared for her and that she was special. Kayleigh believed him, thinking she had found someone who understood her, and wanted to be with her.
Harlow was grooming Kayleigh, along with two other teenage girls. But it was Kayleigh that agreed to meet with the predator at his home, thinking that he was "the one". She told her parents that she was spending the night at her best friend's house instead as she thought they "wouldn't understand".
The 28 year old predator gave Kayleigh alcohol, held her against her will and had sex with her. When she tried to leave the next day, Harlow's neighbour, 29 year old Stephen Beadman chased her into a nearby forest, raped and murdered her.
The two men pled guilty to an assortment of charges including grooming, false imprisonment, sexual assault and murder.
The five-minute film Kayleigh's Love Story was made by Leicestershire Police to warn of the dangers of grooming and sexual exploitation.
The extremely confronting film would carry a 15+ rating if released in the cinema. Watch it here:
The video ends by warning: "Stop and think. When you meet someone online, you don't always know who you are talking to."
Leicestershire's deputy chief constable Roger Bannister said: "What happened to Kayleigh was horrific but we are pleased that some good is coming from the awful tragedy and that this film is raising far greater awareness of the dangers of online grooming and the signs that it may be happening. They are signs that we can all look out for and do something about – before it is too late.
"We felt it was critical that we showed the film to local schoolchildren first, in structured screenings where our staff could discuss with children the issues raised by the film, before we made it more widely available.
"That said, we did release the film to all other police forces in the UK in the summer in order that they could also arrange specific screenings with partners and children before the general release date next week."
The film was made with the support of Kayleigh's parents, Stephanie and Martin.
Please consider watching this video with your teenagers, and have a discussion about the dangers of speaking with strangers on the internet.
Rest in peace, Kayleigh.
Images: The Hinckley Times