School Principal Tells Kids to 'Hit the Dab When You Sneeze'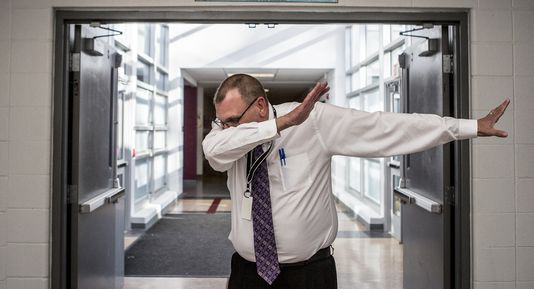 School Principal Tells Kids to 'Hit the Dab When You Sneeze'
If you have school age children, you'll know exactly what 'dabbing' is. Hell, if you've been alive in the last six months, you'll know what dabbing is.
Even Betty White knows what dabbing is. She goes from Gangnam Style to hitting the dab seamlessly.
It seems like everyone has been dabbing for one reason or another. Well, now a school principal has gotten in on the act, asking his students to please hit the dab if they are going to sneeze.
Actually, that's rather brilliant.
High School Principal Tom Bowman, from Newark, Ohio found a way to turn the slightly annoying dance move into a damn good effort to keep kids from spreading germs this winter.
Loving the standard school principal attire of ID lanyard and pens in the top pocket there, Mr Bowman. Nicely done.
The poster reads "Don't spread germs this winter. Destroy all bacteria when you sneeze."
While Bowman is featured in the poster, it wasn't his idea. It came from Alex Kovach, technology integration specialist at the high school.
Any time Kovach sneezes in class, he dabs because his students are entertained by it.
"I did it one day in class and kids just stared at me and they said: 'Did you really just do that?' And I thought it was funny so I just started doing it all the time," Kovach said.
Kovach approached Bowman as he was leaving a classroom one day, and Kovach asked to take a picture of him dabbing.
"He had to kind of refresh me on what that even meant," Bowman said.
The signs are a huge hit with both the students and teachers alike, with several other schools and colleges contacting the popular principal asking if they could implement his idea in their own schools.
"I think what made it funny is that how old I am," said Bowman, who is 54. "I think the kids had some fun with that."
Bowman remains humble about the whole thing, though, chalking his viral status up to luck. "It was a comedy of errors and a perfect storm," he explained, adding that the best part about being Internet famous is that the students who pass him in the hallway actually want to talk to him now.
We think that's worth a triple dab! (Ask your kids what that means, Betty's having a well-earned rest.)
Images: Google Images