How to Create a Homework Station on a Budget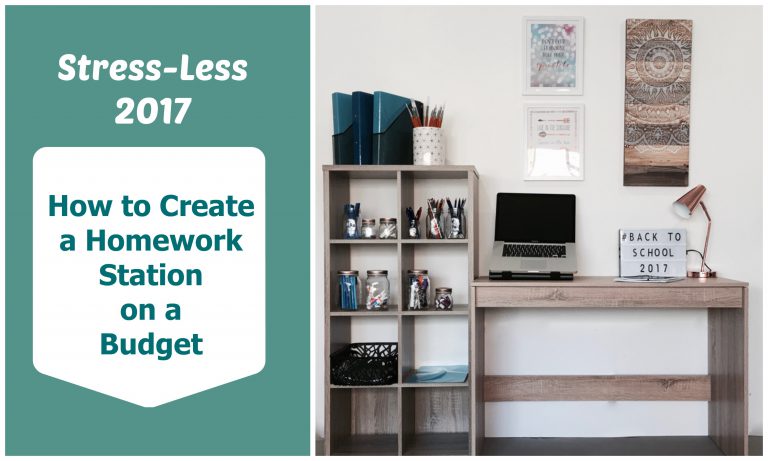 How to Create a Homework Station on a Budget
This year I have sworn to myself that I will get organised so I wrote down all the things that caused me stress during the year and a big one was dealing with homework!
So, with the girls about to go back to school I thought that I better give myself some time to get ready for the onslaught!
So here are the parts of homework that really got to me last year,
There was nowhere dedicated to do the homework so a space had to be made on the kitchen bench or set up on the dining table and by the time you set up the space it was time to pack it up to eat or cook dinner. When it all got packed up then things got lost.
We were always searching for supplies, rubbers, rulers, pencil sharpeners..It always ended up in a hissy fit.
It was hell trying to drag the kids from play to sit down and actually get the work done!
So here is my solution!
I have a space in the small area next to my pantry, it is in between the kitchen and the family room so I will be able to keep an eye on what is going on, it is a fairly quiet spot so they should not have too many distractions.
I popped down to Cheap as Chips because I know that I will find everything here!
In less than 20 min I found everything I needed and here is what it looks like.
The desk is called a Samona desk in oak finish and at only $49 it is excellent value. The matching book case is an 8 cube bookcase in the same finish and it is only $85 so it's not a big expense and much cheaper than all the wine I would have to drink if I have another year like last year!
It came flat packed but it was so easy to put together that I managed on my own with only a screwdriver, something that gave me a sense of personal achievement. My husband saw the flat pack and decided that it was at least a four beer job but he was amazed that by the time he got home I had already completed it!
The desk it not very large so it discourages the kids from turning it into a dumping space and it fits nicely in the small space I have. The fact that the bookshelf and desk match makes it look smart and almost like a built in unit.
On the bookshelf I was able to place all of our student needs for the year. The glass jars hold all of the supplies and ensure that we can see what is what and what might be getting low. Cheap as Chips have a range of clear plastic jars as well if your children are smaller and you don't want to use glass.
I like that fact that the jars have a copper lid so that it matches the framed picture and the beautiful copper lamp we found at Cheap as chips. Even the large jar that holds the paint brushes has copper decorative touches.
The large plastic basket hold all of the bits of paper and notes and even with all of the supplies in place I still have room to store the homework books.
Homework Supplies include:
Pens
Pencils
Ruler
Erasers
Liquid paper
Scissors
Sticky tape
Glue stick and glue tape
Coloured pencils
Textas
Acrylic paints
Paint brushes
Chalk
Scrap paper
Lined note pads
Week by week organizer
White board markets
Plastic sleeved for binders
Spare binders
Plastic clear envelopes
Printer paper
Most of the children's homework seems to be done on the computer these days so it is essential that it is in a comfortable position for them to work at. The laptop cooling fan not only helps to keep the laptop cool but it raises the laptop or ipad to a better position to reduce strain or fatigue on the children as they work. ( I am going to head down for another one as I have found that it is great for reading off recipes from my ipad in the kitchen)
The copper lamp is really cool and helps direct the light where it needs to be and the light box is not only a bit of fun but laid flat it makes tracing so much easier.
The really cool frames help to not only inspire my girls to be awesome but he make the study area a bit more attractive and hopefully they will be running home to do their homework! They had so many cool prints that it was really hard to choose!  The great thing is that these are so light weight that a simple stick on hook was all that was needed to install them on the wall.
My husband hates any sort of clutter so I had to sneak in the little cactus and the harry Potter owl but he girls absolutely love then so they are staying!
The little owl and the beautiful dome are from Cheap as chips too, I will post the tutorial in the next few days!
The girls are really excited to use the homework station so I will guess we will see how it all works out but for now I am happy that I have turned one of my stresses into a lovely little area in my home that makes me happy.