The Viral Video of a Woman Making Spaghetti on Her Counter Top Is Repulsing People Everywhere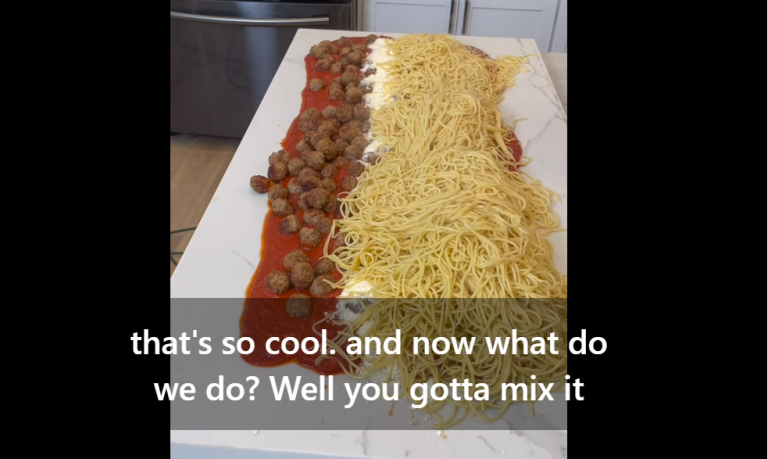 The Viral Video of a Woman Making Spaghetti on Her Counter Top Is Repulsing People Everywhere
Just picture it. You've been invited over to a friend's place for dinner and drinks. You dress up nicely and put a bit of effort in. You stop by your local bottlo and pick up a nice prosecco and head on over for a fun night with good food, good wine and good mates.
Then you show up to a counter top full of tepid pasta made with bulk jar sauce with lettuce leaves on the side.
And someone hands you a fork.
Surely this is a practical joke, right? Nobody would actually do this?
We're still puzzling over that as we re-watch the viral video that Facebook wanna-be influencers/comedians Josh and Lisa released recently. Is it a parody? Is it satire? Or are they seriously suggesting that we all eat spaghetti and meatballs off our island benches in future.
A lot of their videos look questionable at best, and their "ULTIMATE SPAGHETTI TRICK!!" featuring room temperature supermarket pasta sauce and "noodles" is no exception.
As such, people have a lot of thoughts. Not all of them good.
"What a "hot", or should I say "cold", mess," remarked one punter.
"Italians don't use Prego and store bought grated cheese…..I'm Italian, work in an authentic Italian restaurant and know many Italians and NEVER saw or heard of such a thing…most use pots and pans and dinner plates too!!!!" commented one person with a very Italian-sounding name.
"Italians- beautiful people- incredible cooks- it's a wonder so many need to find ways to poke fun at us in areas where they lack," added another. "She probably can't boil water. I feel sorry for her and her friend they must've had the shits for days"
Others said what we were all thinking: "If I came to your house as an invited guest for dinner and seen that I would politely say no, excused myself and never eat another thing you made."
We can only hope that this video stemmed from people trying to be funny and missing the mark. They genuinely look like they enjoy eating like cattle, though, so it is very hard to tell.
Bless them, either way. We needed a good laugh today.
Source: Facebook/Josh and Lisa