This Bridezilla's Shocking List of Demands for Her Wedding Guests Include Not Speaking To Her At All On her Big Day!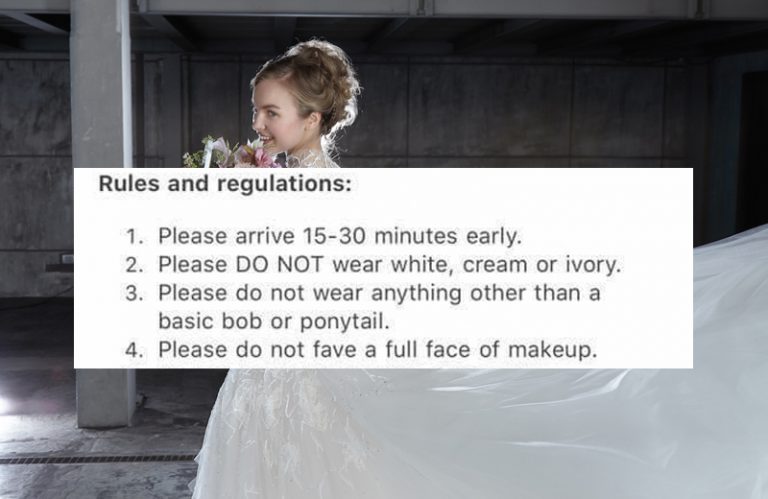 This Bridezilla's Shocking List of Demands for Her Wedding Guests Include Not Speaking to Her at All on Her Big Day!
Gosh, they are coming out of the woodwork now, aren't they? It seems that nearly every week we are hearing of another Bridezilla story going viral! We thought it would be hard to top Susan's epic rant but it appears we have another contender for the World's Biggest Bridezilla title on our hands!
A lucky guest has received an email from the wedding planner of an upcoming wedding, detailing a series of rules that all the invitees must abide by on the day of the wedding.
Instead of quietly agreeing to all of the requirements that the bride has opted to impose on her guests, the recipient of the email chose to screenshot that shiz and post it on Reddit, for which we are very grateful.
Behold, possibly the boldest, most offensive list of requirements for friends and family to abide by ever written:
That has to be the most appalling spelling I have ever seen. It's hard to believe that a wedding coordinator doesn't know how to spell words like 'ceremony' and 'exception'. It sounds more likely that the bride got shitfaced then wrote out her own list of demands and blanket emailed her guests herself.
But let's go through this, anyway.
Rules one and two are fine, if not common sense. No problems there.
Rule three – wear your hair in a basic bob or ponytail? Even North Korea has more than two state-approved haircuts! Ridiculous.
Rule four – no full faces of makeup allowed. What does that even mean? Can you wear full-on eye makeup and lipstick but omit the foundation? Instructions unclear.
Rule five – no recording the "seramony". I have no problem with this.
Rules six and seven – No checking in until advised and a request to use an official hashtag. Again, I have no problem with this either. Your wedding, your call.
Rule eight – DO NOT TALK TO THE BRIDE AT ALL. Wow. Just…. damn, that's way harsh, Tai.
Rule nine – everyone must toast with a specific type of alcohol that we are assuming that she is providing, fine. It's the no "acceptance"/exceptions part that strikes me as being a bit diabolical. Maybe not everyone likes cognac, lady. Can't Nanna toast with a shandy instead?
Rule ten – the good old-fashioned bridal cover charge. Seventy five cash per head or security will kick your arse to the kerb. Nice.
This bride shouldn't have to worry about anyone speaking to her at her wedding. With this list of rules and regulations, she'd be lucky if any of her friends and family were speaking to her at all, now!
Source: Reddit/laika_cat