Woman Had No Idea She'd Been Wearing Her Engagement Ring For A Whole Year Before Being Proposed To!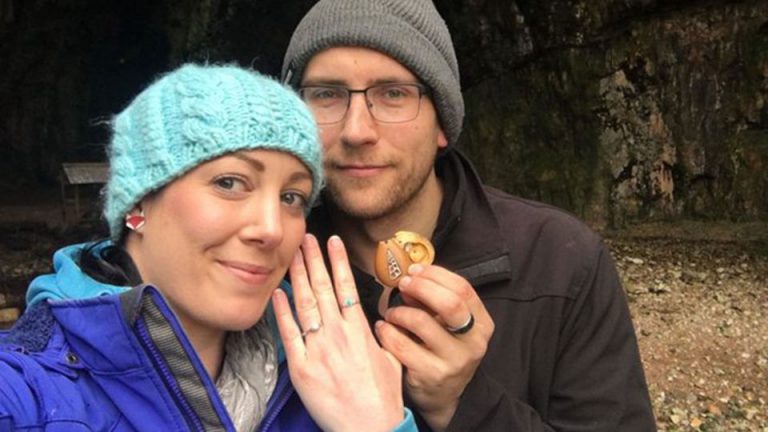 Woman Had No Idea She'd Been Wearing Her Engagement Ring For A Whole Year Before Being Proposed To!
An Aussie woman had no clue she had been wearing her engagement ring for a WHOLE YEAR before she was actually proposed to!
To celebrate their one year anniversary together Anna's boyfriend Terry crafted her a necklace made of Huon pine. Unbeknown to Anna though, he hid her engagement ring INSIDE the necklace. My heart is pounding as I write this!
So for the next year and a half, Anna wore this necklace nearly everyday without knowing it's true value.
Then, during a holiday to Smoo Cave in Scotland late last year, Terry decided it was time to pop the question and reveal the ultimate surprise.
"I picked Smoo Cave because it was a place we had talked about visiting since we first met, and 'smoo' comes from an old Norse word for 'hiding place,' so I think I get extra points for that one," Terry said in an interview.
Just before he was about to propose, he asked for the necklace from Anna saying he wanted to take a photo of it propped up on some rocks.
Instead, he grabbed a knife and released the ring and placed it on the finger of his now fiancé.
"She stood there with this completely confused and dumbfounded look on her face, and when she finally worked out what had just happened, she yelled, 'Yes!' and pounced on me," he said.
Her response that followed however is EXACTLY what every woman in the world would've said…"It's been there the entire time? I could've lost it you f*****g idiot!"
YES!! Exactly! That was my first thought too. While the gesture is incredibly romantic it's also extremely risky! What if Anna hated the necklace and didn't wear it? What if she decided to regift it to a friend? What if she donated it to the local op shop?
The necklace while being incredibly beautiful doesn't look very practical to me. It's not the type of piece you could wear every day- it would clash with so many outfits!! How did Anna manage to wear it for so long- I have no idea!
Also the thought that your actual engagement ring is around your neck kind of makes me feel a little uneasy. I mean what was Terry waiting for before he proposed? Was this some kind of test for Anna? Feels a bit creepy.
Regardless though- the two are now happily engaged and planning their future together. Terry says they are saving to buy their own home and are hoping to host their wedding there. If I were Anna, I'd be breaking apart more jewellery pieces in the hope of finding the keys to my new house!!
Photos: Facebook