Woman Takes To the Internet To Complain About Her Engagement Ring!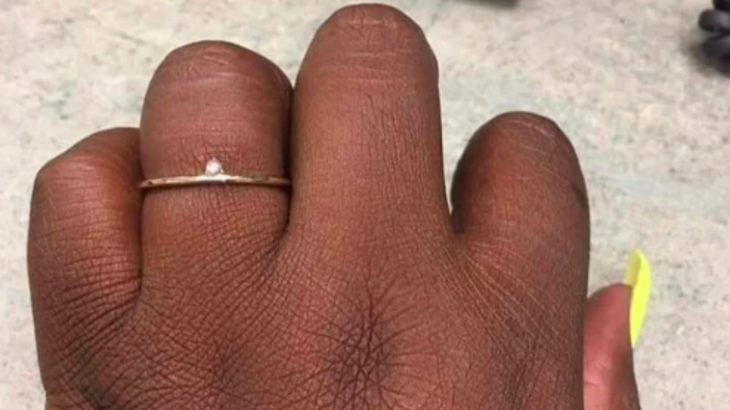 Woman Takes To the Internet To Complain About Her Engagement Ring!
You know the old saying 'size doesn't matter, it's what you do with it that counts?' Does that apply to jewellery as well, cause this very unhappy fiancé just embarrassed the crap out of her man's choice of engagement ring!
We're the first to acknowledge that when it comes to weddings everything is super expensive and over the top. Engagement parties, rings, flowers, hen's nights…etc etc. It all adds up and just adds stress to the finances of both parties involved.
So while we understand that not everyone can afford a giant rock, or even wants one for that matter, we have to admit that this poor woman has kind of been ripped off here. I mean her rock is so small it basically looks like a flick of glitter has fallen on her band. See for yourself…
The disillusioned woman took to REDDIT to ask people if she was being ungrateful for not loving her tiny-ass ring.
"This is the ring he said he saved up to buy me," the woman wrote. "Am I being shady or materialistic if I tell this mf ion want this little a– ring?"
Are you being materialistic? I don't think so. Here's why. The post says her man was saving for 3 years to buy this ring! I call bullshit on that! Unless he was putting aside 10c a week there's no way that ring cost more than $100!
Reddit commenters agreed and called out the tight assed fiancé for daring to even present that to her. "I'm not materialistic when it comes to things like this but if my man proposed with THAT I would be full on insulted," wrote one woman. "There are nicer, more substantial rings than that for $200. He went out of his way to find the cheapest possible option; which to me says that he's probably like that in every aspect of the relationship and will probably be like that in every aspect of their marriage. You can count on it."
"Not gonna lie," another person wrote. "I'd be more concerned about his 'saving up' to buy something that little. Simply because it shows that a wedding is probably not in the budget."
"I agree," another said. "While I have no idea what this costs, it doesn't look like a ring one would need to save up for. They have been talking about marriage for three years, but have they gone window shopping for engagement rings? Have they discussed style, size, and budget for the ring as well as a wedding?"
The comments bought about the discussion of whether or not a couple should go ring shopping together.
"I used to think this was unromantic af, and then my then-bf made me do it and LET ME TELL YOU it's amazing," one woman said.
"My husband has bought some jewelry for me that wasn't my taste. I wanted to have an engagement ring I absolutely loved, so we picked it out together. We got engaged almost three years ago and I still stare at my ring every day because I absolutely adore it," added another.
In fact the general consensus was that a woman should definitely have a say in her engagement ring choice. I mean, she's the one that will be wearing it every day. Even a few guys commented that they were grateful for the help.
"I went so far as to make my then-gf pick out an engagement ring," one man said, "because I knew I wouldn't get the one she wanted and I knew she'd be the one wearing it forever."
What do you think? Is the ring a joke or should the woman be happy with what her man picked out for her?
Images: Reddit