Apple Park Organic Baby Toys Review and Giveaway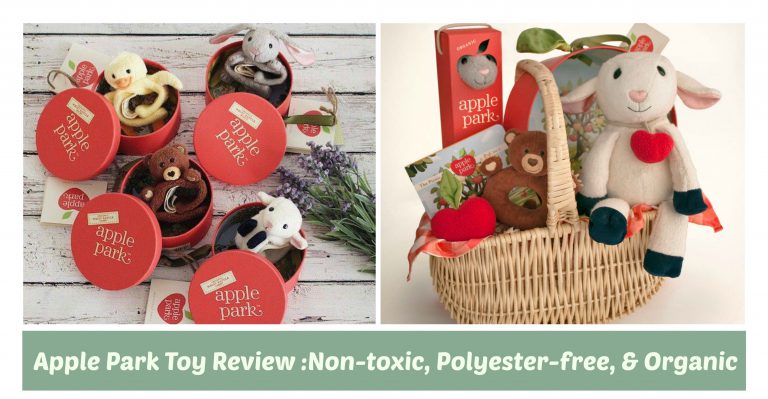 Apple Park Organic Baby Toys Review and Giveaway
Sponsored post
As far as new arrivals are concerned, the past 12 months have seen many of my family and friends welcome little bundles of joy into their lives. Have I mentioned I am going to be an aunty again in April and I am beside myself with excitement? So, despite my own children now all attending primary school and being well past the stage of sleepless nights and nappy changing (phew), I never seem to be too far from a baby store (online or otherwise) on the look out for a cute baby gift.
For me, a gift for a new baby needs to tick three boxes. It should be cute (obviously), practical (giant teddies need not apply) and above all, safe. So it goes without saying that when I was recently given the opportunity to review some organic toys from Apple Park I was very interested to see how they might compare, and what being an 'organic toy' actually entails.
I was sent a Little Lamby teething rattle (from the Apple Park range), a Chatty the Squirrel teething rattle (from the Woodland Range) and my personal favourite – Pork Chop plush toy (from the Apple Park Organic Farm Buddies range).
As you can see the products are both cute and luxurious in appearance, so they'd make the perfect gift for a family member or friend. Moreover, Apple Park's naturally hypoallergenic products are made from 100% certified organic cotton and are free from harmful chemicals and carcinogenic materials. (Did you know that conventional cotton crops are responsible for 25% of the insecticides and 10% of the pesticides used globally each year? Whenever possible it is preferable to opt for toys and clothing for your loved ones, that have been made with certified organic cotton).
I also noticed that Apple Park products are polyester free. Instead they are stuffed with a 100% natural corn fibre filling. Now I'll be honest, I didn't really understand the significance of this until I did some further research. I mean, polyester is in most of our clothes, upholstery, carpets, curtains, mattresses, sanitary pads, nappies etc isn't it? What's the big deal? You know, besides the fact it's highly flammable!
Well, it would seem that there is quite a lot wrong with it. I found this fabulous article online that explains it all in detail but to summarise polyester is manufactured from petroleum-derived substances plus a cocktail of other carcinogenic chemicals. Not only does polyester pose a potential health risk, its production also has a significant environmental impact.
In their quest to provide parents with a truly environmentally friendly baby toy range, Apple Park have also ensured that their packaging fits that criteria too. Packaging is both minimal and printed on recycled paper with soy ink.
In summary, I think the Apple Park website may be my new favourite go-to when shopping for a new baby gift. Not only are they uber-stylish, I will also have the peace of mind knowing that they are also safe for baby (and good for the world!) What more could you ask for, really?
You can check out the entire Apple Park range for yourself here and and catch up on the latest news from Apple Park retailers on the Facebook Page.
Giveaway
Apple Park are giving Mums Lounge readers the chance to win a Pork Chop Set, including the Plush Toy, Squeaker and Blankie valued at $79.95
Pork Chop Plush Toy
Made from 100% organic cotton fabric, and hypoallergenic sustainable with corn fiber filler, this Plush toy is baby safe, as it is free from harmful toxins. The packaging is made from recycled paper, including cotton ties instead of plastic and printed with soy ink.
Pork Chop Organic Blankie 
100% organic cotton fabric.
Hypoallergenic sustainable corn fibre filler.
The head contains a gentle rattle to stimulate a child's sensory development.
Packaging: recycled paper printed with soy ink.
Pork Chop Squeaker 
100% organic cotton fabric squeaky toy. Hypoallergenic sustainable corn fiber filler Packaging:recycled paper printed with soy ink.
To enter, simply complete the entry form below.