4Moms MamaRoo Infant Seat Review and Giveaway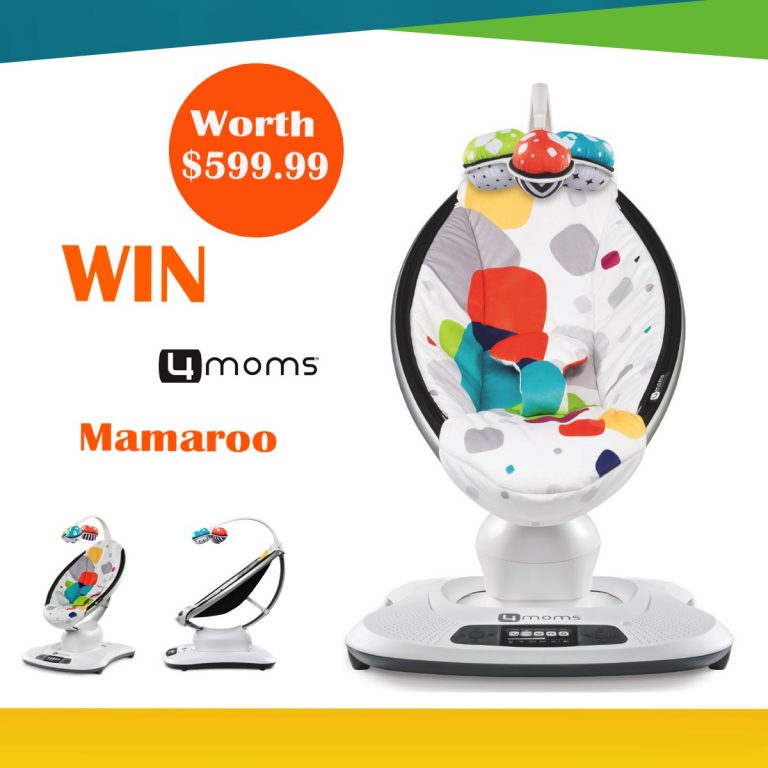 4Moms MamaRoo Infant Seat Review and Giveaway
Over the last few years I have tried out a few baby rockers and swings but unnatural swinging and vibrating motions really didn't seem to work for our little ones and time spent in them was very short lived, making hands free time to take a shower, do my hair or prepare dinner a little challenging. However, 4Moms have created something a little different to the conventional swing or bouncer, so I was really excited to test out the new MamaRoo, which promised to create a far more natural motion for babies to be comforted, similar to the motion a parent would create.
One of the first things that struck me about the MamaRoo was the integrated sound system, which has both pre-programmed, soothing sounds (Ocean wave was my favourite) and also an MP3 adaptor so that you can play your own music. I have to say that putting together a baby playlist that both baby and I would both enjoy was a lot of fun. I couldn't help but wonder what those early days with my 2nd born, who was very colic, might have been like if MamaRoo had been around then. The only way I seemed to be able to sooth him was to sway in front of the white noise of the tumble dryer, where we spent many hours. The MamaRoo may just have offered me a solution to comfort him that was a little less exhausting and also given me some time extra time with my first born who was a little toddler at the time.
I would describe the 4Moms MamaRoo infant seat like a much-needed second pair of hands, so, when it came to that time of the day to start preparing dinner, I could reach for my assistant (the MamaRoo in this case) and secure 'little Miss' safely in the 3-point waist and crotch harness, set the motion to ocean (which he seemed to find the most soothing), hit play on our personal playlist and we were set. Thanks to the MamaRoo now being Bluetooth enabled I was then able to adjust the motion, sound, speed and volume from my smart phone when little mr started to fuss a little, which allowed me to finish the dinner without having to move away from it and committing the usual crime of burning the dinner to the bottom of the pan whilst it's unattended.
There are five unique motions to choose from depending on what motion your baby prefers (car ride, tree swing, rock-a-bye, kangaroo and ocean) and the MamaRoo infant seat easily reclines to multiple positions, so that when little Miss. had had enough of sitting up watching everything going on around him or playing with the removable soft toy balls from the mobile, I could gently lay her back and allow her to rest.
One of the things that being a Mum teaches you is that when it comes to babies everything needs to be washable – oh boy, I could write a book on the funny and not so funny messy mishaps we have had! Therefore it was of great comfort to know that the fabric seat could be quickly and easily removed and thrown in the wash.
Personally I love the MamaRoo, it's a sleek, sophisticated design that actually takes up very little floor space, it creates a natural motion which comforts a baby much like that of their parent, it uses technology to allow you operate it remotely and add your own personal touch through connecting your own playlist of your bubs favorite tunes or sounds.
Written by Julie Williams
GIVEAWAY
Thanks to CNP Brands  we are offering our fans the chance to win a brand new 4Moms MamaRoo worth $599.99. Simply enter below and good luck.
Disclosure: The author was gifted this product for the purpose of an honest review. All thoughts and opinions expressed here are her own.
Win
a 4Moms Mamaroo infant Seat worth $599.99