Babyhood Doppio Stroller Review and Giveaway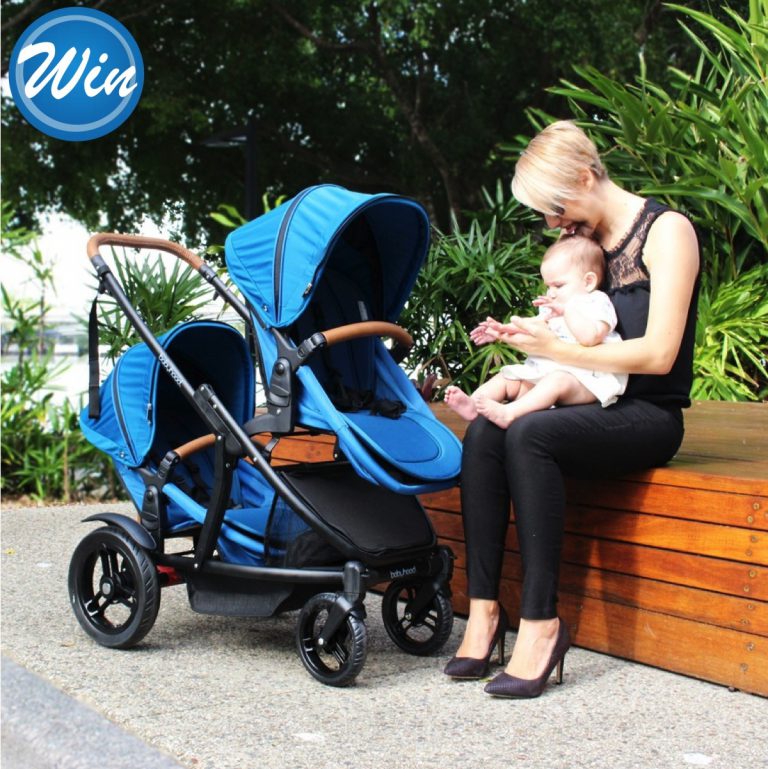 The Babyhood Doppio Stroller – The Stroller That Has Everything!
When you have two little ones close in age, or even twins, life can be a quite a juggling act.  I've now lived (and survived) both and have spent lots of time looking for products and solutions to make life a little easier, whilst adding a touch of style and glamour to life as Mum that we so crave.  So, whilst I might be blissfully unaware of the sick in my hair as I stroll out of the house with the little ones, at least inside I'm feeling elegant and proud.
Over the last couple of months I have been test-driving the amazing Babyhood Doppio inline stroller and, as far as style goes, it has it in bucket loads! This stroller comes in a choice of gorgeous contempory fabric colours with contrasting leatherette covered handle and bumper bars and a jet black frame, making it really stand out from the crowd.
The Babyhood Doppio stroller has a set up to suit almost every family dynamic with its impressive 16 (seriously!) different seat configurations. My twins love being able to face each other but, when it is time for them to rest and the distraction removed, they can be switched to both face forwards with minimal effort.
When considering the multitude of functions that come with the Babyhood Doppio stroller, it's surprisingly lightweight (one of the lightest on the market) and remarkably easy to maneuver and navigate over most terrains, even with one hand.  This enabled me to easily load and unload it from the boot whilst busily running errands and also allowed me keep my second hand free to hold the precious little hand of one of my little ones whilst they walked alongside me.
One of the most impressive features of the Babyhood Doppio stroller is that the seats are multifunction and can been morphed from a bassinet into a seat and vise versa. This is a feature that I have not seen before and am fascinated by how easy it is to completely transform the stroller without having to spend any money on extra accessories…it really is the perfect stroller to see you from your first child through all the stages of your growing family and I can't help wishing it had been on the market when my little ones first arrived.
When getting my children in and out of the car I need it to be quick and pain free, so the fact that I can tap on the brakes of the Babyhood Doppio stroller with my foot, transfer my little ones to the car and then operate the two trigger fold pretty seamlessly, it makes sure that the transfer period is as quick as possible and therefore a godsend to any Mum who just wants to get the car moving when the little ones are getting cranky.
When creating the Babyhood Doppio stroller the designers really placed a lot of thought into covering all of the bases. As well as being extremely versatile, easy to use and maneuver the Doppio stroller also does not comprise on storage space under the seats when the second seat is attached, as unlike many other inline strollers, the child's feet are rested in the seat itself leaving the storage basket free for the shopping or picnic. The Doppio stroller also includes some luxury extras, such as super comfortable washable padded seat liners, expandable breath easy canopy hood for greater protection and better air flow around my little ones and zip off insect/sun nets that packed away super small when not being used. Additionally the stroller is compatible with up to two infant carriers, so that you can transfer a sleeping baby (or two) gently into the stroller and get on with life. Having the option to attach two Nuna Pipa Capsules is a great option for parents of twins!
If, like me, you are often in need of a caffeine hit (or two), then Babyhood have the perfect accessories to help you on your way. I love the universal insulated stroller caddy, which is perfect for storing a couple of drinks, and the zip-off storage pouch to keep my coffee money and phone hidden away but handy.  It even has an opening in the pouch for head phones so that I can multitask on the move.
The Babyhood Doppio stroller is the most dynamic stroller I have come across, while being beautifully stylish, providing superior comfort for travelling little ones, ease of handing over most terrains as well as being light and simple to use – it's hard to think of anything else you would want from a stroller.  Whether you are starting out on your journey into motherhood with your first baby, growing your family or have double the love on the way the Doppio stroller has got you covered and if style and versatility are what you are looking for I would highly recommend this stroller.
Disclosure: The author was gifted this product for the purpose of giving an honest review. All thoughts and opinions are her own.
Written by Julie Williams
Giveaway
Thanks to Babyhood we are offering our fans the chance to WIN a stylish Doppio Stroller worth $795! Simply enter below and good luck.
Win a Babyhood Doppio Double Stroller