Prospan: A Helping Hand for Kids' Coughs This Winter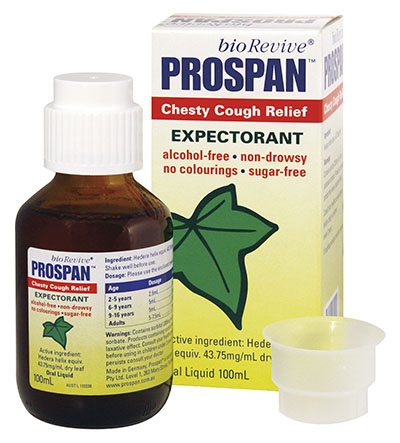 With the cold and flu season now in full swing, many parents will be reaching into the medicine cupboard to help soothe their child's chesty cough and help to decongest them. However, the changes brought into effect in September 2012 by the Therapeutic Goods Administration (TGA) regarding the use of coughs and cold medicine in children has left many parents unsure of which medicines to give their family.
Banned Cough and Cold Medicine for Children: The Facts
The Therapeutic Goods Administration (TGA) has carried out a review of the safety and efficacy of registered over-the-counter (OTC) cough and cold medicines for children aged 2-12 years and a decision was made to ban these products.
The medicines reviewed contain one or more of the following active ingredients:
Antihistamines: Brompheniramine, Chlorpheniramine, Dexchlorpheniramine, Diphenhydramine, Doxylamine, Pheniramine, Promethazine, Triprolidine
Antitussives: Codeine, Dextromethorphan, Dihydrocodeine, Pentoxyverine,
Pholcodine
Expectorants/Mucolytics: Ammonium chloride, Bromhexine, Guaifenesin,
Ipecacuanha, Senega and Ammonia
Decongestants: Oxymetazoline, Phenylephrine, Pseudoephedrine, Xylometazoline
The review found that there are potential risks associated with these products for children and only limited benefits. On this basis the guidelines have changed:
Children under 6 should not be given these medicines to treat cough and cold symptoms.
Children aged 6-11 should only be given medicines to treat cough and cold symptoms on the advice of a doctor, pharmacist or nurse practitioner.
If a cough and cold medicine is indicated for children aged between 6 and 11 years, the correct dosage should be included on the label to avoid guesswork.
Particular efforts should be made to inform consumers and health professionals that children under 6 should not be given cough and cold medicines.
What Can you Give Your Child?
Luckily, there is something you can give your child. Prospan for Cough Relief was not effected by the cough and cold changes, as it does not contain any of the aforementioned ingredients. Instead it is a natural therapy for kids coughs and mucous congestion, and contains the active herbal ingredient Hedera Helix, (which has over 20 published clinical studies of its safe use in both children and adults.)
Free from colourings, sugar and gluten, Prospan also tastes great (without the chemical/synthetic flavour many cough medicines have), so getting your child to take it, is easy.
Who can take Prospan?
Under Two's
Prospan Infant drops are recommended for those under the age of two, and because it is concentrated only a few drops are needed. Drops can be given to children directly, or can be put into milk/water or juice). Consult your pharmacist for advice.
Over Two's
Prospan Expectorant (available in 100ml or 200ml) is recommended for children over the age of two.
Prospan Lozenges are also a great option for busy mums* on the go, and children over the age of six.
(*Consult your pharmacist or health care professional if you are pregnant or breastfeeding)