Britax Agile SP Stroller Review and Giveaway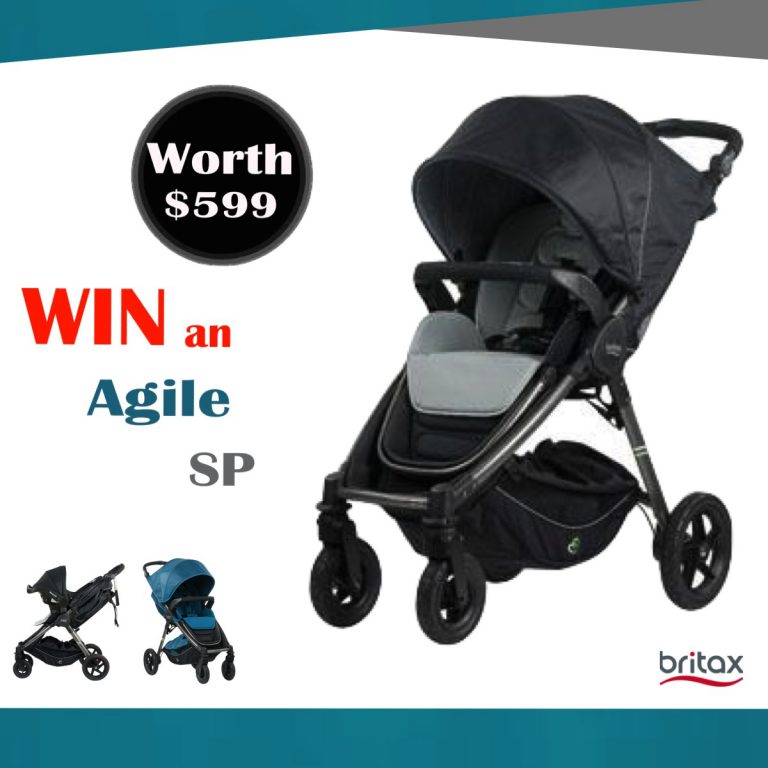 Britax Agile SP Stroller Review and Giveaway
With my little ones growing up faster than I can take a breath, I hadn't imagined that a seemingly smaller stroller would still be suitable for them, until I tested the Britax Agile SP.
The new Agile SP boasts to be the tallest in its range (with a 52cm backrest), which certainly makes a noticeable difference to my little ones comfort as he stretches out and enjoys the extra space. The extra room combined with all of the soft padded cushioning and shoulder pads certainly seemed to make Little Miss 3 very keen to put her feet up and take a rest on a big day out. Not only does the Agile SP have extra seat height it also holds a child from birth right up to 29kg, which means that I can get loads more use out of it.
Despite the extra height and weight capacity, the Agile SP remains a very compact and light Stroller, making it a great option to fit in the boot of almost any car without taking up valuable space that is needed for everything else that comes with a day out with kids.
Our family loves an adventure to the beach or through the bush, so it was great comfort to know the Agile SP has puncture proof foam filled all terrain wheels, leaving us free to enjoy all of our favorite walks without concern.
The Agile SP has all of the great features that you would expect from a Britax Stroller. The seat reclines completely flat and adjusts up and down into any position in-between with a really simple smooth action, so as not to disturb my little one when they dropped off for that much needed nap after a busy morning. The parent handle adjusts easily to various height positions, so it's perfect for me and my very tall husband to use comfortably. The One-link Brake feature allows me to lock both wheels with just one push and, with an easily distractible little one in tow, it is certainly a worthy feature to be able to apply the brakes quickly and easily.
The extra feature that the Agile SP has that I love is the large drawstring storage basket. Gosh I honestly couldn't even begin to tell you how many things have jumped out and escaped from stroller storage baskets over the years. Fortunately now all of our things are neatly stored away in the bottom of the stroller and not only protected from falling out but are now also protected from the occasion light mud splashes we encounter.
The Britax Agile SP Stroller folds down really compact, making it a great space saver in the boot. It was also quite a surprise watching how quickly my husband sussed out how to pack the stroller away over the first weekend we had it and I had to laugh at the nods of approval he made when discovering that with just one press then lift the handle at the base of the seat he made the quickest and slickest pack up yet. In fact my husband was so impressed that he made me watch him do it several times to 'check out how fast he could do it'.
The Britax Agile SP Stroller is the perfect choice if you are looking for something compact, easy to use, comfortable for your little one, suitable to travel over most terrain and has extra longevity due to its extra backrest height and increased weight capacity.
The Britax Agile SP Stroller included a padded boot and full raincover to add warmth and shelter in cold months and sun protection during the warmer months. Two sets of receivers; 1) Click & Go and 2) Steelcraft Receivers for compatibility with both the Britax Safe-n-Sound Unity & Steelcraft Infant Carriers.
Written by Julie Williams
Thanks to Britax  we are offering our readers the chance to win an Agile SP stroller worth $599. Simply enter below and good luck x
Disclosure: The author was gifted the stroller for the purpose of an honest review. All thoughts and opinions expressed here are her own.