Get Your Bake On! Cake 2 the Rescue Review & Giveaway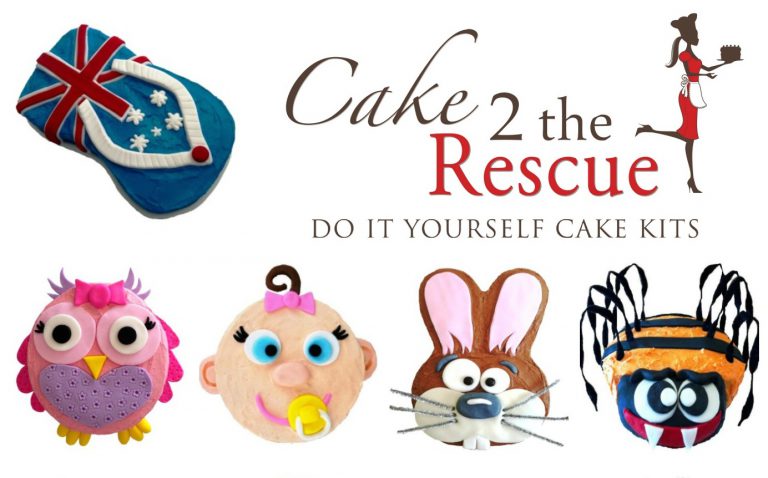 Planning your child's birthday party can be great fun, but if we are honest, it can also be a little stressful…or a lot! Between sending invitations, decorating, shopping for groceries and preparing party food, your child has probably also requested that you bake them a special birthday cake in the shape of their favourite character or hobby – you know, like all the other mums at school do!
Urgh! Even if you could construct a dinosaur out of sponge cake, you just don't have the time or energy left to source of all the different coloured fondants, food colourings, other decorations you'll need…and you'll need a cake tin! Cake tin! Why don't you own a cake tin!
Step away from the ice-cream cake! Help is at hand! Cake 2 the Rescue take the pressure off having to bake for your kids birthday with their simple and affordable Cake Rescue Kits.
Step One: Visit the Cake 2 the Rescue website and choose one of their fabulous designs. There are over 150 to choose from, with cakes to suit a range of occasions. Order your Cake Rescue Kit
Step Two: Have a cup of tea and congratulate yourself on avoiding a birthday cake related melt-down. (Yours…not your child's!)
Step Three: When your Cake Rescue Kit arrives, open the box and marvel that everything you need to create your masterpiece is there, including a disposable baking tin, candles, rolling pin, cake mix, fondant and or icing, silver cake board, and an easy to follow instruction card. EVERYTHING!
Step Four: Whip up a birthday cake that will put the biggest smile you've ever seen on your child's face in just a few short hours. Seriously – the hardest part is waiting for the cake to cool before you decorate it!
Meet Our Reviewers
Cake 2 the Rescue recently invited Mum Lounge readers to try out their Cake Rescue Kits for the purpose of an honest review.
Here's what they said:
Reviewer: Michelle, Ferntree Gully, VIC
We opened the box to find heaps of amazing goodies to make our "soon to be" masterpiece! From the cake mix, the icing, right down to the rolling pin and even candles! You guys didn't miss a thing!!! So cool!
I made the cake, let it cool, then put it in an air right container (as directed by your awesome instructions) for the boys to help me decorate the next day.
 I can't tell you how excited they were! 🙂 I cut the cake shape using
 the template provided. I was nervous but was very surprised at how easy it was. Then each of my boys took turns icing it.
I then gave them each a job….The fondant! 😉 Mason made the gums and
 eyes, Sebastian had the blue fondant and cut out all the fins and tail, and Caleb cut out all the teeth. They did so well, I was very impressed
Then it was time to piece it all together.
Again, I was super nervous because I wanted it to turn out just like the picture but didn't think I could pull it off considering I'd NEVER made a cake like this in my life! AND my cooking ain't that crash hot lol! 
I've only ever ordered my boys cakes from professional cake making 
businesses, or made them cupcakes…so yeah….the odds were I was
 going to make a complete mess of this poor shark.
The instructions that were supplied were very easy to follow, even for me! We pieced Sharky together and the boys and I couldn't believe our eyes!! We rocked it! I don't think we could have done it any better! We totally surprised ourselves! Check out our delicious Sharky..
.
The boys were super proud!
We will definitely be ordering one of your amazing cake kits again! Not only was it easy to make and fun for the kids, but it tasted DELICIOUS! We give Cake 2 the Rescue 10 out of 10 and I have not stopped telling
 everyone all about your wonderful kits! So expect a few more 
customers 🙂
Reviewer: Lauren, Mt Cotton, QLD
Our cake kit arrived incredibly fast and upon opening the box, I was immediately impressed by it's contents, with every little detail required to make the cake included – from a box to bake it in, all the ingredients, a cake board, decorations, a server and even candles!
Making the cake itself was incredibly easy, I just needed to add a couple of pantry ingredients to the cake mix included, and our chocolate cake was ready to be put into the oven in no time. After allowing the cake to completely cook, I easily removed it from the baking box provided and was ready to start decorating. When I've made 3D cakes in the past, I've always been a little nervous when it has come time to shape the cake, however thanks to the template provided, there was no stress involved.
I have to admit we couldn't resist sampling the cake off cuts whilst we put the cake together, and we all loved the rich chocolate flavour and thought it tasted great even without any icing!
Reviewer: Kristia, Burnie, TAS
Wow we had so much fun making our cheeky monkey cake with our own cheeky monkey!
Joel loves to bake so he was super excited to get baking and assemble our kit to replicate the one pictured in the instructions.
I must admit I was a little nervous because although we've made themed birthday cakes before, I've never worked with fondant but Joel and I have play dough experience and we watched Baker Girl's videos and got to work.
I found the kit to be great value as it included everything we needed so no mid baking session dash to the supermarket this time! I found the templates had nice thick lines so they were easy to cut out neatly.
The cake was easy to mix and bake and came out of the oven just perfect. Joel was keen to ice and eat it asap. Once we iced it, and Joel was fully sugar loaded from licking the bowl, we got stuck into making the fondant cut outs. It didn't take long to get it put together. The most time consuming part was waiting for it to cook and cool.
The end result was a cute and delicious cake. Thank you so much Cake 2 the Rescue.
Wow! Didn't they all do a fantastic job? Not only did they avoid the cost associated with having a cake professionally made, but they actually had fun too.
Hero status with their child for minimal stress! Priceless!
With all of our reviewers rating their experience with Cake 2 the Rescue positively, we have no hesitations about awarding them with our official MMG (Mum Media Group) stamp of approval!
With a huge variety of competitively priced cake kits available, why not turn to Cakes 2 the Rescue for your next celebration. To view the range of cakes available or to learn more, visit www.cakes2therescue.com.au
The Giveaway
Cake 2 the Rescue are giving 3 lucky readers the chance to try out their Cake Rescue kits for themselves! For you chance to win follow the instructions on the entry form below. Good luck!
a Rafflecopter giveaway