Our Product Testers Share Their Thoughts on Colourless Max Effect At-Home Hair Colour Remover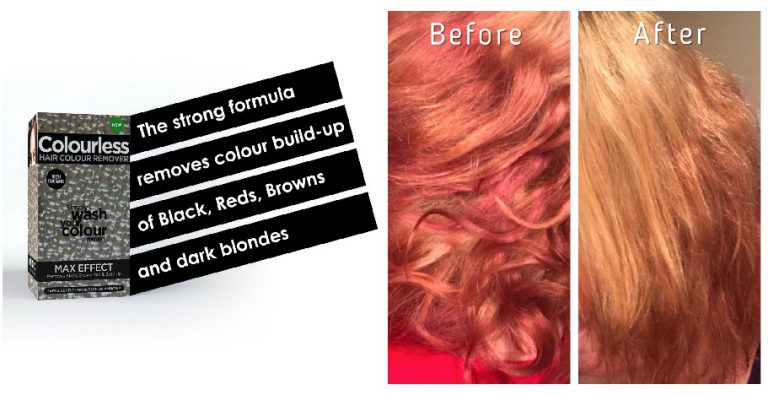 Our Product Testers Share Their Thoughts on Colourless Max Effect At-Home Hair Colour Remover
There is nothing like putting a fresh new colour on your hair to make you feel a million bucks is there? But what happens when you get sick of the colour, want to try something new or just want to go back to your natural colour? Stripping colour from your hair can be a costly exercise involving multiple visits to the hairdresser until you achieve the natural shade hidden beneath – and ain't no one got time for that!
We invited 10 Mums Lounge readers who wanted to remove dark colours from their hair to trial and review a much more cost effective, quick and easy at-home alternative – Colourless Max Effect.
Disclosure: Each reviewer was provided with a complimentary box of Colourless Max Effect for the purpose of an honest review.
Related: How to Remove Dark Hair Colours From Your Hair Yourself
How Does Colourless Max Effect Work?
Colourless removes dye from the hair by reversing the dye process, by shrinking dye molecules within the hair cuticle, allowing them to be washed away. Colourless is a much safer alternative to bleach and a much cheaper alternative than going to the hair dresser.
Max Effect contains 25% more active ingredients than other Colourless variants. The ultra- strong max effect is designed to remove dark colours and stubborn colour build-up. No Ammonia and no bleach means Colourless Hair Colour Remover is very gentle on the hair's condition!
What Our Reviewers Thought About Colourless Max Effect
This week we caught up with our reviewers to find out how easy and effective they had found the product to use. Here's what they had to say:
Suzanne Shipp
I found this product to be fairly easy to use as you just mix in the bottle and apply.  Compared to another brand I have used it was pretty much the same but I found the result from this product was a little better.
Although it didn't completely strip all the colour it certainly got rid of a lot of it which was better than nothing.  It actually surprised me how much it did remove as I was skeptical after the last one I used because wasn't as effective.
It was a little time consuming but if you are on a budget honestly this is the way to go rather than going to the hairdresser.  I would definitely recommend this product to anyone.  It is definitely on the more expensive side and there are cheaper ones on the market but I don't think they would work as well as this one.
Ruth Laker
I loved that it stripped the red tones off my colour and showed me the grey underneath the brown, I have been using hair colouring regularly for over 20 years. I would use this product again, it didn't damage my hair, the smell wasn't offensive as expected and my hair showed the colour I think I had way back when I was a teen.
Lauren Pratt
I have tried other colour remover products and haven't had any good results.
I have very long hair, and really needed two boxes.  This needs to be more prominent on the box if you do have long hair.  I was able to do the colour remover myself and found the solution non-drip and I didn't make a mess in my bathroom. The 45mins wasn't too bad a wait time and because my hair was in cling wrap I was able to do lots of chores knowing my hair wouldn't drip.
The two part rinse was a little difficult. So much shampoo even on my long hair. It did feel really clean afterwards and I did follow up with some conditioner as my hair does get knotty.
Pros – It did strip the permanent black from my hair. My hair is now a medium brown from a dark almost black colour. It was an easy process and very simple to use instructions.  I was pleased with the results I saw as I have been colouring my hair for 30 years. 

Cons – The chemical smell was overpowering.  It took more colour from the top of my hair than the roots but this is too be expected when you have very long, thick hair like mine.
I would recommend. It's the best product on the market for removing built up permanent colour and simple to use instructions and product. I am now able to choose a mid brown to dye my hair which is nice rather than a very dark brown/black colour.
The photos are very hard to see in the grey top is when my hair is very black (before) and the last photo it's much lighter on top.
Lisa Sykes
Today I tried Colourless on my hair to remove a permanent colour I applied and no longer want. The instructions are easy to follow and everything is included in the box.
I mixed part a and b and applied to my clean dry hair. The solution is quite thick and east to apply. I found there to be plenty to cover my shoulder length hair. The solution has a strong smell but no stinging or itching.
After leaving covered with plastic for 45 mins I rinsed and followed the final step. I was surprised to not see any colour really rinsing out so was feeling a little skeptical now. Final step complete I can see a lighter look to my hair.
My hair feels quite dry and stringy while still wet but when dry is quite soft.
Wow I am quite surprised how much lighter my hair is. I am happy with the results and the only bad thing is the smell….it's really bad. This product is great to remove some unwanted colour.
Megan Jenkins
Overall I thought it was a good product, I actually bought a second box after using the first box so I'd definitely buy it again. It does do what it says and it's simple to use, it takes a little longer than I expected as it's a 3 step process but I didn't mind. The product itself though does smell a little. There's also plenty in a box, I have really thick shoulder length hair and I had no problem getting all of my hair covered. From the pictures you can see my hair was a really Dark reddish purple and it took it down to an orange brown, enough that the next dye worked really well. My hair is also very damaged and this stuff left it feeling a lot better than the normal colour removers do.
Tara Claydon
I used the colour remover today and was very impressed, it was very easy and quick to apply.
When I washed it out and dried my hair I was very impressed with how much colour it had removed.
I've spent years dying my hair, and have also had treatments done to remove colour which didn't work as well as this one did and were ALOT more expensive!
I would definitely recommend this to others over paying a lot for expensive hair dresser treatments.
Erin Phillips
Ok so to start with the instructions were fairly straight forward but there were a lot of them. We took it out and read it etc. and then I mixed it up and oh my goodness it is really stinky (sorry!). It smells like rotten eggs. But we thought ok it might wash out so we continued. I put it through his dyed red hair (red went over faded blue which was on lightly bleached hair) and started the timer.
After the allotted time we rinsed and put the shampoo stuff in and rinsed and put more shampoo stuff in and did more rinsing (lots of steps) and then we dried it and it was a weird green. We ended up having to lift the green tinge with peroxide. I am sorry but I'm not sure I'd try this again.
Cate Mumford
I tried the colourless hair removal stuff after about a week of it sitting on my bench. Cause I'm chicken.
But then, I just bit the bullet and did it!!
It stripped my hair quite well. The ends needed to be cut, because they were so dry and brittle afterwards, but I'd needed a cut beforehand, and after a week of deep conditioning my hair, it was almost back to its usual self.
My hair has been a very dark brown with reds in it for the last 8 years. So it was quite dark before I started. It became quite orange after the treatment but has calmed down considerably in the weeks following the application. There are many shades to my hair now, but they work. And the lighter colour is growing on me.
Thank you for the opportunity to try this product. If you want lighter hair and are willing to work with the product, this is one way to do it.
Kartika Medcraft
The process was very simple.
Just as easy as doing a Colour!
I have very thick short hair and found the amount was perfect for my hair to get good coverage.
I was doubtful about the effect as the time seemed too short but was very pleased with the outcome. My hair felt squeaky clean.
I would have liked a conditioner of some sort for after the treatment however.
I followed on a few days later with a Colour in my hair and the results were much better without all the built up old Colour and products.
I would use it again, especially as a preparation for a fresh new Colour.
Aria Harrison
Applying the Colourless product was straight forward and easy, much the same as any home dye kit. It took the black dye out of my hair, leaving me with reddish/auburn tones. It was definitely a lot lighter in colour which then allowed me to put some brighter colours back in my hair. I was shocked at how healthy and soft my hair still felt after having the black colour removed. I would use this product again in the future.
For more information about Colourless Max Effect or any of the other products in the Colourless range please visit www.colourless.com.au
Available in Priceline and Woolworths. RRP$26.95.